Alt-right speaker Richard Spencer just got booted out of CPAC by security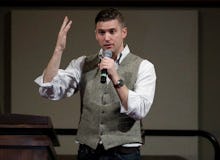 White nationalist and alt-right mouthpiece Richard Spencer was escorted out of the Conservative Political Action Conference by security guards on Thursday, reportedly on the grounds that his views don't align with those of the conference.
According to tweets by New York magazine reporter Olivia Nuzzi, Spencer was mid-interview when security walked up and ejected him from the Gaylord National Resort and Convention Center in Maryland where the conference is taking place, despite the fact that he had purchased a ticket to be there. 
A controversial figure even in the most conservative circles, Spencer is  best known for his attempts to mainstream his outspoken brand of white nationalism and anti-Semitism, and for saying things like, "America belongs to white men."
Spencer most recently made headlines when he was punched by an anti-fascist on the day of President Donald Trump's inauguration.