11 of the most memorable Oscar acceptance speeches of all time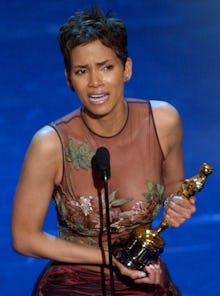 The Oscars may not be perfect, but there's still a lot to love about the awards show — like what actors have to say when they take the podium. This year at the 89th Academy Awards, we're wondering not only who will win but also who will give the best acceptance speeches. For many actors, a quick "thank you" suffices. Others have more to imprint upon the audience.
Here are 11 of some of the most memorable Oscar acceptance speeches in the award shows nearly 90 years.
Meryl Streep, best actress in 2012 for Iron Lady
Streep acknowledges she's not everybody's cup of tea — but she doesn't care. She knows she's the queen and she has some pretty special people who support her as she realizes her talents. Feminism 101: Stand up for yourself, girl — just like Streep.
Halle Berry, best actress in 2002 for Monster's Ball 
Berry gets emotional as she discusses the significance of her award — and how it represents an opening for women of color both inside and outside of Hollywood. Berry's tears show how much the award means not only to her but also for others who look like her. 
Angelina Jolie, best supporting actress in 2000 for Girl Interrupted 
Earlier that night, Jolie shocked viewers when she kissed her brother James Haven on the red carpet. She doesn't pretend it didn't happen, either. She brings it up during her speech in true don't-give-a-hoot-what-you-think Jolie fashion.
Roberto Benigni, best foreign language film in 1999 for Life Is Beautiful 
When his movie is announced, Benigni jumps onto the seats before he dashes up to the stage to accept his award. His enthusiasm only grows as he takes the spotlight. He does a fantastic job of conveying his gratitude in English, proving to be an inspiration for anyone who felt self-conscious about their non-native accent.
Robin Williams, best supporting actor in 1998 for Good Will Hunting
Unsurprisingly, Williams delivers the perfect combination of humor and heart in his speech. He makes the perfect jab at Ben Affleck and Matt Damon for their age and has the touching words for his departed father.
Tom Hanks, best actor in 1995 for Forrest Gump
Hanks appears floored to win and his speech packs all the emotion. He mentions the power of love and even signs off with "God bless." Seeing down-to-earth A-listers is always memorable.
Sean Connery, best supporting actor in 1988 for The Untouchables
Not every memorable Oscar speech makes a political or social statement. Connery's 1988 speech is brief but funny. Sometimes short and cheeky are the way to go. Click here to watch his acceptance speech.
Marlon Brando, best actor in 1973 for The Godfather
In a bold move, Brando refused to accept his Academy Award. He sends Apache spokesperson Sacheen Littlefeather to decline the award. Littlefeather said Brando opposes Hollywood's treatment of Native American people, as well as the U.S. government's actions at Wounded Knee in South Dakota at the time.
Barbra Streisand, best actress in 1969 for Funny Girl 
Streisand tied Katharine Hepburn for the number of Oscars, which Streisand acknowledged during her speech. She also reflected on the fact that the first draft of the Funny Girl script was written when she was 11 years old. Her humor and humility in her speech are truly touching. Click here to watch her acceptance speech.
Julie Andrews, best actress in 1965 for Mary Poppins 
The usually eloquent Andrews stumbled a bit during her acceptance speech. Even still, she managed to be very British and make a (gentle) joke about Americans. With a Mary Poppins sequel upon us, here's a good reminder of the actress who made the role iconic. Click here to watch her acceptance speech.
Anthony Quinn, best supporting actor in 1957 for Lust for Life 
Though Quinn's speech was short, his comment that he wasn't in competition with anyone but himself is a valuable reminder not just for actors but anyone working in a creative field. Click here to watch his acceptance speech.
Mic has ongoing Oscars coverage. Please follow our main Oscars hub here.