Nintendo Switch Midnight Release: GameStop, Best Buy and other locations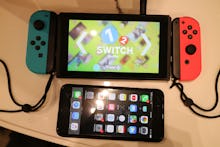 The Nintendo Switch release date is so close we can taste it — and if you failed to put in a pre-order, FOMO has probably started to set in. Those who placed a pre-order can leisurely head to a nearby store to pick up the console, but if you didn't manage to reserve a unit, there's still hope for you at some Nintendo Switch midnight-release events.
If you plan on grabbing a Nintendo Switch at 12:01 a.m. March 3, there are three retailers you need to keep track of. Here are the major stores hosting midnight-release events.
Nintendo Switch midnight release: GameStop
According to Polygon, GameStop will hold midnight festivities for the Nintendo Switch launch. Those who have pre-ordered the Switch can drop by their local store and pick up the unit. Unlike other retailers, though, GameStop's midnight release will also allow those who didn't pre-purchase a Nintendo Switch to buy one — while supplies last, of course. 
A select amount of Switch consoles will be available for purchase on the spot. However, if you want the best odds of snagging one without a pre-order, you'll definitely want to attend a midnight event rather than waiting for normal business hours.
Search for your local GameStop here and call to make sure they're participating in Nintendo Switch midnight-release mania. 
Nintendo Switch Midnight Release: Best Buy
GameStop isn't the only major store doing a midnight release of the Nintendo Switch. Best Buy has confirmed it will also host a midnight launch, though you won't be able to buy units at those locations without pre-orders. 
There are some bonuses involved, however. Those in attendance will get a Zelda poster — while supplies last — just for showing up. The poster is designed after Breath of the Wild, the launch title headed to the Switch on March 3.
You can use the Best Buy events hub to find nearby stores. Before you set up camp, make sure to call first to confirm a midnight-release party is scheduled for your location.
Nintendo Switch Midnight Release: Nintendo World Store
Brave Nintendo fans in New York will be able to visit the company's flagship store on launch night — a midnight release at the Nintendo World Store has been confirmed on Nintendo NY's official Twitter account. Judging by demand, you'll need to have pre-ordered the console if you want a guaranteed console on release date. But if any retailer is bound to have extra supply, it's the actual Nintendo store.
Nintendo Switch Midnight Release: Other locations
International chains — like British retailer Game — will also take part in the midnight launch, but if you find yourself in the United States, Best Buy, GameStop and the Nintendo World Store are your best bets. Target's already sold out of their Nintendo Switch pre-orders and won't hold a midnight-release event; Walmart may not have a formal midnight-launch event per se, but many Walmart locations tend to be open 24 hours — useful for picking up pre-orders at your convenience. If none of these options work out, you might just have to suffer until Nintendo ramps up production. Stay strong!
Check out more Nintendo Switch news and coverage
Looking for more Nintendo Switch news? Check out our comparison photos sizing up the Switch to the Wii U GamePad (part one and part two). Then take a look at a leaked video of the Nintendo Switch menu interface and dark-mode features. 
If you're just getting caught up, here's everything you need to know about the console's price, release date, pre-orders, battery life and our hands-on review. And if you're interested in the Nintendo Switch's games, here's info on the new Super Mario Odyssey, Legend of Zelda: Breath of the Wild, Splatoon 2, Xenoblade Chronicles 2, 1-2-Switch and the goofy boxing game Arms.