'Ghost Recon Wildlands' Weapon Customization: Open beta guide, tips and tricks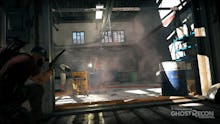 Assuming you're actually able to get into the Ghost Recon Wildlands open beta running on PlayStation or Xbox, you'll be welcomed with a bevy of options at your disposal. It is, after all, a huge open world game where you can approach each and every situation in any manner you prefer. 
One of the ways you can tailor the game to your liking is in its seemingly deep weapon customization system. Here's everything you need to know about the feature in Ghost Recon Wildlands.
Ghost Recon Wildlands weapon customization: A brief guide
Open the in-game menu and tab over to the "Loadout" screen. Press the square or X button (depending on your platform) to enter the customization screen seen above. 
If it looks overwhelming, don't worry. It's actually pretty easy. From here, you can swap out every one of those gun components with new ones you collect around the world. Unfortunately, right at the start, you won't have anything meaningful to change.
You'll have to go around the world and find each individual attachment. Thankfully, if you hover over one that you don't have unlocked, the game will tell you which general area it's in. Hovering over an attachment will also show you how it will change your gun's stats on the right side of the screen, while additional text will tell you when it has another effect, such as suppressing your fire. 
For a system that seems fairly deep, it's actually pretty self-explanatory once you get into it. Suppressors will silence your fire at the expense of stopping power, while new magazines will change your clip size. If you've ever played a modern military shooter, you'll feel right at home here.
More gaming news and updates
For more gaming news, check out the latest from Mic. Here's a review of Horizon: Zero Dawn, 15 photos that compare the Nintendo Switch to the Wii U and other gadgets, a beginner's guide to For Honor and a deep dive into the new trend of Nazi-punching video games.