What ever happened to the worst-dressed list?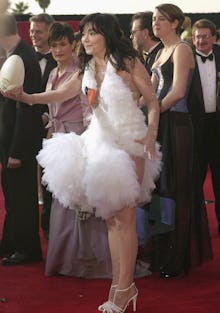 It used to be the kind of thing that haunted celebrities — understandably so. Imagine getting all dolled up for an awards show, jazzed about your straight-off-the-runway couture look and then the next day finding yourself photoshopped into an image beneath the booming headline "Worst dressed." 
The horror. 
Its existence even instilled fear into even the most famous of famous people. 
"I'd much rather go un-photographed than be on the worst-dressed list," Tina Fey told US Magazine in 2010. "I'm not a fan of 'Worst Dressed' things because I don't believe in crucifying people for their individual [taste]," Nicole Kidman said in a recent interview with Net-A-Porter's The Edit. "It just seems nasty and misogynistic, so that needs to go away."
Despite its undeniable power, while best-dressed lists continue to be ubiquitous both online and in print (hell, our best-dressed list for the Grammy's went up before the ceremony itself even began), the worst-dressed list seems to have gone near-extinct. And when it's most obvious is after a major awards show, like the Grammys, which aired more than a week ago. 
Seven years ago, buzzy headlines like "Worst dressed at the 2010 Grammys!" were quickly pushed out by outlets like US Weekly. But this year, US Weekly didn't comment on the worst dressed at the 2017 Grammys.
The last time People wrote about the worst-dressed at the Grammys (at which there are usually many), was 2006. Open up the most recent issue of People magazine and rather than see a genuine critique, you'll see a spread on the trends that came out on the red carpet, and the "risk-takers," which is a much nicer term People has been using in place of "worst-dressed." 
But does People's best-dressed list still exist? Oh yes. To compare: If you Google "best dressed 2017" you get 41 million hits; Google "worst dressed 2017," and you get less than 4 million results. 
Though the list hasn't completely vanished, with outlets like AOL and USA Today and even E! News still covering the worst-dressed people, it's undoubtedly different. It's not as biting. It's not as ridiculous. It's not as fun.
It's not like everyone who showed up to the 2017 Grammys happened to be stunning. If Twitter reactions were any indicator, here were plenty of people — like Joy Villa — who would absolutely have made it to the worst-dressed list what with her Make America Great Again gown, if the worst-dressed list existed like it did five or 10 years ago. 
What's turned two of the biggest American tabloid magazines off to the idea of the list, which held such a heralded position in American celebrity consumption? 
The most obvious reason might be because the clothes themselves aren't nearly as ridiculous and fun anymore. You've got stylists to thank for that.
Before employing stylists became a red carpet necessity, in the early '00s, you got looks like Björk's dress to the 2001 Oscars, and Gwyneth Paltrow's turn as a goth to the 2002 Oscars. You got Mary J. Blige showing up looking like an electrified Big Bird to the 2004 Grammys. 
But now, worst-dressed lists are chock full of women in gowns that maybe are just a little unflattering or in a dull color, like Adele at the 2017 Grammys. 
Because stylists exist, and their sole purpose is for their client to not be on the worst-dressed list, wherever that may be now, dresses and what people wear to awards shows has calmed down. The worst-dressed list is far less exciting to flip through — or click through. It's about those who didn't look exquisite versus those who looked straight-up ridiculous (see: Katy Perry at the Grammys).
No one's being Björk.
Has that made things more boring for us, the American viewer? Yes. Has that made life undoubtedly easier for celebrities? Also yes. 
What has also changed these past few years is the emergence of the internet — and Twitter, specifically — now being the one credible source when it comes to red carpet fashion critique. It's us, the people, shooting the shit on Twitter and openly discussing and breaking down each look we see, who are creating worst-dressed lists all our own.
The crown of "Funny Fashion Critic" has been passed down to us. 
That may be why so many outlets have turned their backs on the worst-dressed list. Why have people click through a slideshow or waste space on paper with a list that the internet has already wholeheartedly dissected and agreed on? We don't need it anymore. 
Regardless of how quick a writer can turn out a list, Twitter will always be quicker. And if you didn't know already, Twitter users are a funny bunch, quick to think up memes and creative comparisons that are actually the 2017 equivalent to a biting Joan Rivers joke. 
(Sorry, Joan.) 
We, ourselves at Mic, are already quicker to peg a bad outfit as a bad outfit because of how Twitter is reacting, like we did with Taylor Swift's fishy robot look at the Met Gala. 
Although Twitter has certainly changed everything for how magazines and websites push pieces out, there's also the possibility that even before Twitter's emergence as the go-to platform to literally see what everyone is talking about, people weren't clicking. 
If these stories consistently got people to click, then they wouldn't be vanishing. So maybe there was something in the American psyche that made people not want to click on an article that would guaranteed be about dragging someone or putting someone down. 
Maybe in light of recent politics, people just didn't feel like bringing that negativity into their lives, no matter how fun it can be. That would explain publications' devotion to best dressed lists, but not worst. 
When we talk about worst-dressed list phenomenon though, and fashion critics in particular, it'd be a mistake to not mention the woman who is at the center of it all: Joan Rivers. For years before Twitter, she was the one giving biting critiques on the red carpet, sometimes directly into the faces of celebrities, and then on TV the next day, too, on Fashion Police. 
Although Twitter is doing just a fine job at entertaining us during each red carpet, what's actually missing from it all is fashion knowledge. With Rivers, we got to laugh and learn. But after she died in 2014, and Twitter effectively filled that void, all we're doing now is laughing and poking fun without the shrewd sartorial critique embedded within. 
Again, maybe that's what we need right now, but with each passing awards show red carpet, it just seems that the worst-dressed list is on its way to going the way of the rotary phone, cursive writing and floppy disks. That is, to not exist at all.
And we will miss it. Oh, how we will miss it.