Thundercat 'Drunk' Review: A cartoony look at how disturbing life can be at times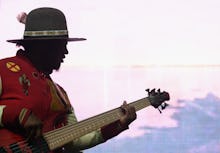 From The Simpsons to South Park to Rick and Morty, all the most celebrated adult cartoon shows have executed some of their best gags operating with a similar logic. Sometimes facing culture's most pressing and controversial social issues head on is a little too challenging, too upsetting. But do up a critique with cartoony metaphor and comedic bombast and you just might be able to get your audience to rethink subjects like racism, climate change or political corruption, without causing them to throw their dinner at the TV.
Cartoon television nails this form of satire, but it's not the only medium capable of executing these kind of sly coups. It's grown a bit passé since the days of Dead Kennedys and Frank Zappa, but cartoon irony still has its place in music. Thundercat's Drunk, the artist's highly anticipated third full-length studio album, proves it. It's one of the finest examples in recent memory of how to blend the hilarious and the revelatory into an acrobatic musical work.
Over 23 tracks of blitzkrieg electronics-driven jazz and lighthearted R&B, the artist leans into Adult Swim-inspired hijinks and vaporwave aesthetics to tell disarming stories about depression, police brutality and the unseen emotional toll the internet can take on its users. It offers a slew of playful and glossy instrumentals, reminiscent of the late Prince, and some of the most honest and comedic storytelling since the Mothers of Invention left the stage.
For those who got their invitations to Thundercat's electro jazz orgy late, the artist is essentially a Brainfeeder science experiment. Take the raw talent of jazz bassist Charles Mingus, mix in the irreverent comedic madness of Eric Andre and a touch of Frank Ocean's airy falsetto and you'll begin to see something like Thundercat take shape. In the past decade, he's contributed vocals, bass and writing to albums by Childish Gambino, Kendrick Lamar, Kamasai Washington, Erykah Badu, and, of course, Brainfeeder mastermind Flying Lotus.
"I've always tried to hold true to what Erykah Badu and Flying Lotus told me: It has to come from an honest place," Thundercat revealed in a Red Bull Music Academy Daily interview, introducing Drunk. "I feel like it's a place that I've been in different ways, seen different angles of and it's been a bit inspirational, the drinking. It has its ups and downs and everything, but I felt like it showed the human side of what goes on behind things."
From the very start, the bottle offers a kind of portal to duck out of the bright headlights of reality. It's a "Rabbit Ho" so to speak, as Thundercat pronounces rabbit hole on the album's opening track. Being high "as a kite" helps Thundercat buff the edge off the sad facts he sings about on "Bus In These Streets." "Every morning I wake up, I'm staring at the screen, watching the world go insane," he sings in his ethereal falsetto. Pairing the lines with a lackadaisical glockenshpiel-heavy picnic melody only helps to turn up the surreality of the thoughtless, overexposed world.
Thundercat recreates the effect throughout the album — blurring the lines between the personal and universal, unimaginable tragedy and banana peel comedy. The minute-long romp "Jameel's Space Ride," mixes Black Lives Matter critiques into a sing-songy number about a bike ride: "I want to go right, I'm safe on my block/ Except for the cops/ Will they attack?/ Would it be cause I'm black?" 
The artist turns to space to find peace, a move straight out of the pages of Sun Ra, Parliament-Funkadelic and the afro-futuristic motherships they dreamed of. Again, on the party track "Drink Dat," a more positive companion to the somber lo-fit R&B of the album's single "Walk On By" featuring Kendrick Lamar: "Can't come down, we're too faded/ Way out in the stars/ She said 'Come to outer space.'" It's likely be more interesting than all the weird, boring shit people are obsessed with on earth.
The album constantly juggles this uncontrollable impulse to escape with the need to accept this is the way things are. Thundercat calls on Captain Planet for help on the "The Turn Down" — which features one of the experimental and effective rap verses Pharrell has ever spit — before ultimately accepting the world for what it is on the song's closer.
"Sometimes you're alive/ Sometimes you are dead inside/ With the time to read between the lines of life and death," Thundercat sings over the same spacey riff as the intro, closing the loop on the whirlwind of animated styles. "Sometimes it's okay/ Sometimes it's the worst thing ever/ Hopefully you work it off and get a DUI."
It's the only note the album could end on, after all its frenetic instrumentals, unrequited love songs and bittersweet odes to the bottle. On one hand, it also feels a glimpse at Thundercat making peace with the album's artistic restlessness, which he was unable to pair down into anything less than 23 tracks. What's a virtuoso to do, but wake up the next morning, brush their teeth, comb their beard ("Still feel weird") and try it again?
Mic has ongoing music coverage. Please follow our main music hub here.