Why does Future call himself "Future Hendrix"? His former rap name may also surprise you.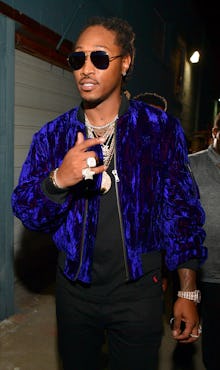 Future was born Nayvadius DeMun Wilburn, but the rapper is now settling on the name Future Hendrix, the musical persona he's channeling on his latest album, HNDRXX, set to drop Friday. 
So why does Future call himself Future Hendrix? 
As you may have guessed, the name is inspired by and derived from the late Jimi Hendrix, who Future sees as an iconic musician who wasn't afraid to be different. 
Hendrix only lived to see the age of 27, but stood out because of his eccentric guitar-playing style that captivated audiences in Britain and the United States. He was a self-taught musician whose band the Jimi Hendrix Experience was inducted into the Rock and Roll Hall of Fame in 1992.
Future hasn't expressed any interest in picking up the guitar, but in interviews over the years he has said he wants to embody Hendrix's eclectic spirit in his music. Future discussed this influence with Zane Lowe on Apple Beats 1, upon the release of his fifth studio album Future last week. 
It's about "me being different and me feeding off Jimi Hendrix and just what it represents to me as being different," Future said, "as someone that comes from where I'm from to being able to just do it a different way than what was expected. And that's just what Future Hendrix represents."
Future also praised Hendrix to GQ in 2015:
I took to his character, specifically being someone who's different, not afraid to try new things in music. I go outside my comfort zone many times for the sake of just being creative musically. I'm not just a hip-hop artist; I feel like I'm a rock star. Jimi Hendrix, he was a rock star. But he played guitar; I don't. I've just found ways to use words to make my mark in this history book.
Even prior to that, in 2013, Future told the Rolling Stone that he spoke highly of Hendrix because "he was a gifted individual. He just stayed who he was and eventually it paid off."
Future's former rap moniker may surprise you
Future and Future Hendrix sound cooler than the rap moniker he started out with in his early years as part of Atlanta rap/R&B collective the Dungeon Family ? a launching pad for the careers of OutKast, CeeLo Green and later Janelle Monáe. At the time, Future rapped under the name "Meathead the Future."
"He might not want nobody to know that," CeeLo told MTV's RapFix Live in 2013. 
It is hilarious to know that CeeLo and André 3000 might still refer to him as "Meathead," years after his name change. Later on, rapper Rocko signed Future, but told him he had to drop "Meathead" from his stage name.  
"'You just gonna be Future,'" Rocko recalled to the Village Voice in 2013 about what he said to Future. "He was spelling it with a 'P.' I told him we were going to spell it the regular way. He didn't complain."
The change was made and the rest is history.
Mic has ongoing Future coverage. Please follow our main Future hub here.