This high-tech farm can grow perfect veggies literally anywhere in the world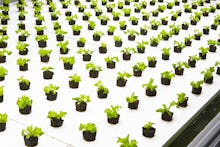 The kale of the future will be grown in warehouses. And these warehouses might be anywhere in the world: Antarctica, the Atacama Desert, you name it.
Bowery Farming has modernized the foundation of standard farming to create a more sustainable food future. The first farm of its kind, located in an indoor, commercial-sized warehouse in Kearny, New Jersey, can grow produce twice as fast as the traditional outdoor field no matter the weather.  
"It doesn't matter if we're in a desert city or a frozen city, our climate is the same," co-founder and CEO Irving Fain said in an interview. While traditional farmers have no control over the weather — which is becoming more and more unpredictable as a result of climate change  — the plants grown inside Bowery have a constant, reliable source of light, water and nutrients. 
How? LED lights positioned above the seeds provide the light necessary for photosynthesis. In other words, no sun, no problem. 
 "We're growing our product with the same natural processes a plant grows with when it's outdoors," Fain said. And instead of growing in soil, the produce is grown with hydroponic farming, which provides the crops with only the precise nutrients they need and, importantly, the right amount of water. 
"We control all the variables," Fain said. "We give plants optimal conditions to grow — more light, more energy and more water than they would get out in the field." Fain said "vision systems" collect and analyze plant behavior to figure out the exact conditions required for peak freshness and flavor.  
Urban farming with 100% less pesticides
It all sounds a bit like a freak science project — manipulating kale and bok choy to grow just as you wish — but it's the company's proprietary, automated FarmOS technology that, over time, can decipher how much of a nutrient a plant needs to cultivate beautifully. 
Because Bowery has tight control over the warehouse conditions nurturing the veggies, the farm is incredibly efficient. 
The tech approach on farming cuts down on the resources required to make food. Because the technology is able to determine exactly how much water each plant needs, the practice uses 95% less water than traditional farming and — wait for it — 100% fewer pesticides.
More than one billion pounds of pesticides are used in the U.S. every year, and their potency lingers for decades. Certain pesticides that are still legal in the states have been associated with adverse effects in humans, Mic previously reported. And just so you know, organic doesn't mean pesticide-free. 
Bowery's techniques fall in line with the emerging trend of urban sustainable farming. Brooklyn-based Gotham Greens also relies on hydroponic farming — which can save space by organizing crops vertically rather than horizontally — and climate-controlled conditions to breed first-rate produce.  
Still, if this is all sounding a bit unnatural to you — who wants to eat salad that's been fed by a lamp? — you may find relief in the fact that celebrity and health-conscious chef Tom Colicchio has already been serving Bowery's plants at his own NYC restaurants, Craft and Fowler & Wells. Colicchio is so in love with the idea and the execution, Fain said, that he invested in the company and joined as an adviser. 
As the country continues to urbanize, it'll be crucial to be able to grow food in spaces beyond large plots of land. "Access to food growing efficiently and effectively is a global problem," Fain said. He and his team are currently developing a second location, and they look forward to what's next. "You can build these in open areas and abandoned areas in cities," Fain said. Each new farm "would build new jobs and manufacturing opportunities."
You can get a taste of this, as Fain put it, "post-organic" produce at Whole Foods locations in the tri-state area.