'GTA 6' Release Date Rumors: Does a 'GTA 5' Easter egg hint at future launch plans?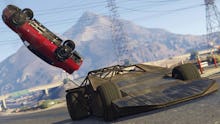 Rumors have been flying around about the next game in the venerable Grand Theft Auto series for a while, but the truth is we know next to nothing about the game — presumably titled GTA 6. The best we can come up with right now is that Rockstar Games is probably working on it and it will come out ... someday.
We probably won't hear about it until well after the release of Red Dead Redemption 2 later this year, but that hasn't stopped the internet rumor mill from churning. This time, a curious set of doors in GTA 5 has piqued interest. 
GTA 6 release date teased in GTA 5 Easter egg?
In case you're at work and can't watch that short video, here's what people have found: Two doors in the GTA 5 airport with some numbers on them. One set of doors says 2013, while the other says 2021. 2013 is the year GTA 5 originally launched and these are the only two numbered doors in the airport, leading people to believe the second set hints at a possible release date for GTA 6.
It's fun to think this is some kind of grand hint from Rockstar, but video game development is a fickle business. If the game is truly that far off, it's unlikely that Rockstar already has a release date in mind other than "when it's done." Having said that, it's also a pretty believable release window given how long Rockstar takes to develop games. 
Take this one with a massive bucket of salt, folks. We'll let you know as soon as there's any real information about the next Grand Theft Auto game.
GTA Online tips and tricks
Check out Mic's GTA Online guides on how to get rich, run an auto theft ring, buy and sell property, increase your strength stat, treat yourself to plastic surgery and how to kill the Insurgent, one of the most powerful vehicles in GTA Online.