How many Oscars does Meryl Streep have?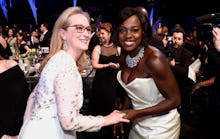 On Sunday, Feb. 26 five incredibly talented actresses will all be competing for best actress in a leading role. While the favorite to win is Emma Stone for her performance in La La Land, Ruth Negga, Natalie Portman, Isabelle Huppert and Meryl Streep are likely all hoping the Academy leans in their favor. 
You probably are not (or shouldn't be) surprised to read Meryl Streep's name among the nominees for best actress. The living legend has 20 Oscar nominations to her name, and that number only seems to be growing. Of course, while Streep has been nominated for more acting Oscars than anyone else, she also, unfortunately, has the most losses to her name. 
Streep's 17 Academy Award losses are more than Katharine Hepburn's 12 total nominations. Still, it is hard to feel bad for Streep. If you have not done the math already, the iconic actress has won a total of three acting Oscars, more than any actress (or actor for that matter) but Hepburn, who has four. 
Meryl Streep's Oscar wins span four decades, with her first coming in 1980 for her supporting role in Kramer vs. Kramer, and her most recent being in 2012 for her leading turn as Margaret Thatcher in the The Iron Lady. Along the way, she won an Academy Award for best actress in 1983 for Sophie's Choice. 
So, while Streep is certainly a long shot to take home the Oscar on Sunday for her role in Florence Foster Jenkins, we should know by now never to count her out. 
The 89th Annual Academy Awards will air on Sunday, Feb. 26 at 8:30 p.m. Eastern on ABC. 
Mic has ongoing coverage of the Academy Awards. Please follow our main Academy Awards hub here.