Republican Town Halls 2017: Videos show voters' disapproval with Trump Administration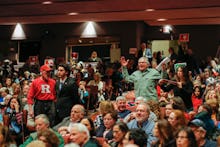 As Republican leaders returned to their respective districts during the year's first congressional recess, they've faced some icy receptions. 
Large crowds have turned up in in droves at town halls to express their disappointment with the GOP's plan — or lack thereof — for the Affordable Care Act, the Russian influence in the United States presidential election and President Donald Trump's Cabinet picks, to name a few. 
On Tuesday, Rep. Marsha Blackburn (R-Tenn.), Rep. Joni Ernst (R-Iowa), Senate Majority Leader Mitch McConnell (R-Ky.) and Sen. Chuck Grassley (R-Iowa) faced the scorn of voters regarding Trump's executive action on immigration and his plans to build a wall along the U.S.-Mexico border.
The anger is palpable, despite being downplayed by Trump who tweeted that the "so-called angry crowds in home districts of some Republicans are actually, in numerous cases, planned out by liberal activists."
But video footage suggests these angry constituents are the real deal. 
Sen. Mitch McConnell
McConnell was supposed to host a friendly luncheon Tuesday, but plans changed. When a woman asked the congressman about Trump's energy plans, she also took the opportunity to toss a barb his way, saying if the senator addressed her concerns properly, she would "sit down and shut up just like Elizabeth Warren."
Rep. Jason Chaffetz
On Feb. 9, Chaffetz was met with jeers and a "let them in" chant during his town hall in Salt Lake City. In a radio interview Tuesday, he said, "They're welcome to come yell and scream. ... I thought it was intended to bully and intimidate." 
Rep. Marsha Blackburn
Blackburn, a vocal opponent of Planned Parenthood, was welcomed by protesters demonstrating for reproductive rights.
Sen. Chuck Grassley
On Thursday, voters confronted Grassley on Education Secretary Betsy DeVos' controversial voucher program. One video from the confrontation showed a voter warning Grassley about the dire consequences of dismantling the Affordable Care Act: 
Rep. Tom Reed 
On Saturday, Reed met a group of constituents at a senior center in Ashville, New York. When asked about how he would replace the Affordable Care Act, he simply said there is a plan to repeal it, a reply that was met with jeers.
Sen. Joni Ernst
Ernst, considered a rising figure within the GOP, faced disgruntled voters, too. Angry constituents screamed at the senator "Your last term!" and "We want our voices heard." The senator took only one question on the ACA and then she left the town hall meeting 45 minutes early.