Here's just how much more CEOs get paid than American workers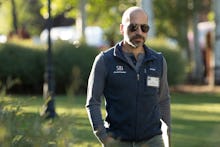 It might seem natural that your boss will make more money than you, and that your boss' boss will earn even more than that. But you may be surprised at just how much more CEOs make than the average American worker. 
When you look at wage data for all U.S. businesses — both big and small — the CEO-to-worker pay ratio is just under 5 to 1. But if you calculate the gap based solely on salaries of CEOs of giant corporations, specifically publicly traded companies in the S&P 500, that ratio soars to 335 to 1, according to the AFL-CIO's Executive Paywatch.
Zoom in on the highest-paid CEOs, and the gap gets even wider, with cases like Expedia CEO Dara Khosrowshahi earning a massive 2,560 times more than the average worker.
The pay divide wasn't always this stark: Back in the 1950s, the S&P 500 CEO-to-worker pay ratio was a more modest 20-to-1. But by 1980, that figure more than doubled to 42-to-1. And by 2000, it leaped to 120-to-1, Bloomberg reported. That has represented a big cultural shift.
"When CEOs switched from asking the question of 'how much is enough' to 'how much can I get,' investor capital and executive talent started scrapping like hyenas for every morsel," Roger Martin, dean of the University of Toronto's Rotman School of Management, told Bloomberg. 
How many of you could a company hire?
The average nonsupervisory worker earned $36,875 in 2015. The average CEO, on the other hand, made $12.4 million in total compensation, according to the AFL-CIO's analysis of data from the Bureau of Labor Statistics, along with proxy statement data from 424 of the 500 companies in the S&P 500 Index. 
Comparing average worker pay to that of the highest-paid CEOs of public companies, as calculated by the New York Times, shows just how enormous the divide has gotten between elite CEOs and the typical U.S. worker.
Here are some noteworthy examples:
• Expedia CEO Dara Khosrowshahi was the highest-paid CEO in 2015, with $94.5 million in total compensation, including salary, bonus, perks and options. That's 2,560 times what an average worker made during the same year.
• CBS could have hypothetically hired 1,530 workers for the $56,400,000 in total compensation paid to CEO Leslie Moonves in 2015.
• Walt Disney paid Robert Iger $43.5 million in 2015. A total of $22.34 million of this compensation came in the form of bonus payment while Iger's actual salary was just $2.5 million. Perks, stocks and options made up the rest. Disney could have hypothetically hired 1,180 employees for the same money.
• Yahoo paid its CEO, Marissa Mayer, $36 million in total compensation for 2015, equal to the total salary of around 980 workers. Her replacement, Thomas McInerney, will be paid double Mayer's base salary of $1 million. 
• Time Warner CEO Jeffrey Bewkes made as much money as about 850 workers with his $31.5 million in total compensation in 2015. Just $2 million of that was his salary: He also pocketed a $13.36 million bonus, with the rest coming from stocks, options and other perks.
• Sirius XM Holdings paid James Mayer $29.2 million in 2015. The company could have hired about 790 workers for what Mayer made. 
• Comcast could have used the $27.5 million paid to CEO Brian Roberts to provide jobs to about 750 workers at the average worker salary in 2015.
• Exxon Mobile CEO Rex Tillerson took a hefty pay cut to become Secretary of State, giving up his $24.3 million total compensation from Exxon Mobile for an annual government salary of just $207,800 in 2017. For what Tillerson was paid by Exxon, around 660 workers could have been hired.
• CVS paid Larry Merlo about 620 times what the average worker makes, providing Merlo with $22.9 million in total compensation in 2015. This was actually a pay cut from the $24.3 million he made in 2014.
• AT&T CEO Randall Stephenson was paid the same as about 610 workers, with total compensation of $22.4 million in 2014.
More CEO pay data is on the way
The exact pay ratio of CEOs to their own workers — as opposed to averages across all industries — should be made public starting in 2018, thanks to a new SEC rule requiring all publicly traded companies to disclose that data for the first fiscal year starting on or after January 1, 2017.
Why? Those numbers are important because average pay for workers can vary widely between industries.
For example, oil and gas extraction workers earn an average of $69,530. That means that the $24.3 million that former Exxon CEO Tillerson made in 2015 is only really about 350 times what a typical worker in his industry earned. ("Only.") But an amusement and recreation attendant earns $21,360, so Disney CEO Iger's $43.5 million 2015 compensation is actually about 2,040 times what an attendant at the company's theme parks may be paid.
Don't hold your breath for the new CEO pay disclosures, though: The Trump Administration's acting SEC chair, Michael Pinowar, has indicated that these long-awaited disclosures could be delayed.
Sign up for The Payoff — your weekly crash course on how to live your best financial life. Additionally, for all your burning money questions, check out Mic's credit, savings, career, investing and health care hubs for more information — that pays off.