Nintendo Switch Shovel Knight: Launch games list expands to include indie games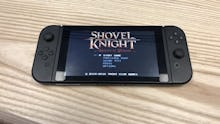 Many have criticized the Nintendo Switch launch games list for being lackluster. Aside from Legend of Zelda: Breath of the Wild and 1-2 Switch, there are few must-buys to entice Nintendo fans. While launches come and go and the Nintendo Switch games list will expand as time rolls on, there's at least one more game we can add to the list: Yacht Club Games' Shovel Knight.
Nintendo Switch: Shovel Knight joins the launch games list
According to Shovel Knight's creators, Shovel Knight: Specter of Torment edition will be available on Nintendo Switch for $9.99 through Nintendo's eShop. Additionally, players can spend $24.99 to gain access to the Treasure Trove expansion pack, also on March 3.
Both Specter of Torment and Treasure Trove versions of Shovel Knight will hit every other current gaming platform sometime in April.
Shovel Knight on the Nintendo Switch guarantees yet another game that fans love will come to the system, along with other older console classics like Mario Kart 8. 
The confirmation of Shovel Knight's arrival came alongside the tragic news about Nintendo's Virtual Console, which won't be available at launch. That means fans will have to wait for a future update to play classic Nintendo games on the Switch.
Nintendo Switch Shovel Knight: More indie games could join the launch lineup too
Shovel Knight isn't the only indie title coming to the Nintendo Switch at launch. The Switch will also see Fast RMX, the futuristic racing game available on the system on March 3 as well. Before then, Nintendo will hold an announcement on Tuesday. The "Nindies Showcase," as it's called, will spotlight indie games headed for the company's new console. While we may not see more games announced for launch, we should at least learn what indie titles to expect for the Switch throughout 2017.
More Nintendo Switch news and coverage
Looking for more Nintendo Switch news? Check out our comparison photos sizing up the Switch to the Wii U GamePad (part one and part two). Then take a look at a leaked video of the Nintendo Switch menu interface and dark mode features. 
If you're just getting caught up, here's everything you need to know about the console's price, release date, preorders, battery life and our hands-on review. And if you're interested in the Nintendo Switch's games, here's info on the new Super Mario Odyssey, Legend of Zelda: Breath of the Wild, Splatoon 2, Xenoblade Chronicles 2, 1-2-Switch and the goofy boxing game Arms.