The Trans Lifeline got so many donations in the past 36 hours, its server crashed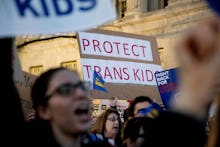 As expected, President Donald Trump's administration announced on Wednesday that it was reversing guidelines put in place by former President Barack Obama to protect transgender students in public schools. 
Right away, people put their wallets to work, eager to throw their weight behind groups working to help and defend trans kids. 
In just 36 hours, the Trans Lifeline — a crisis hotline "by and for" the transgender community — received around $51,000 in donations, Trans Lifeline Director of Communication André Pérez said in an email Thursday. It was a deluge of support so profound, it crashed the site's server. 
Some of the support, Pérez said, was due to social media attention from celebrities — like that of singer Katy Perry, whose Wednesday tweet espoused the hotline's work. 
Donations received over the past few days totaled about 13% of its entire 2017 budget, money Pérez said will be put to good use.
"We still get calls every day that go unanswered because we don't have enough capacity," said Pérez. "With this money, we will be able to pay for more staffing to work towards meeting the needs of our community as that need grows, with the increasing pressure from the political and social climate."
The guidelines reversed by the Trump administration had directed public schools to allow students to use the bathrooms corresponding to their gender identity. Without those protections, activists warn, trans youth — who are already at heightened risk for bullying, harassment and suicide — become even more vulnerable. 
And it seems Trans Lifeline is already feeling the growing need from the trans community. Even as donations poured in Wednesday, the center also saw "an uptick" in calls, Pérez said.