Standing Rock arrests now total at least 40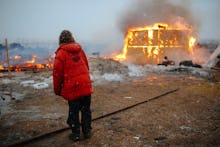 One day after the deadline to evacuate the Dakota Access Pipeline opposition camps set up near Cannon Ball, North Dakota, police arrested at least 40 protesters, CNN correspondent Sara Sidner reported, citing the local sheriff's department.
In a series of tweets, Sidner said the roads surrounding the Oceti Sakowin camp had been blocked off by police vehicles.
An emergency evacuation order signed by Gov. Doug Burgum set the deadline to leave the camp at 2 p.m. on Wednesday. But on Thursday, nearly 24 hours later, dozens of protesters remained.
Although CNN reported around 100 protesters left voluntarily on Wednesday evening, 10 arrests were reportedly made that night as well.