Laverne Cox speaks out against Trump's rollback of protections for transgender students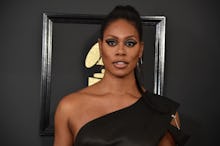 On Wednesday night, President Donald Trump's administration lifted former President Barack Obama's guidance mandating public schools allow students to use the bathroom corresponding to their gender identity.
While a letter from the administration to schools insisted that the rollback didn't "leave students without protections from discrimination, bullying or harassment," there was no way around it. Without Obama's guidance, transgender advocates stressed that trans and gender-nonconforming students would be left vulnerable to violence. 
Among the dissenting voices was Laverne Cox, who condemned Trump's decision in a Thursday interview with Mic's Darnell Moore. She believes there's a not-so-subtle message legislators and politicians are sending trans people with these disputes over bathrooms.
"These laws are in part about bathrooms, but they are really about whether we want trans people to exist in public space," she said. "At the heart of it, this is about us having access."
Going to the bathroom is, simply put, a necessity. And when trans students are forced to use a bathroom that's not consistent with how they identify — or, as in the case of 17-year-old Gavin Grimm — are forced to make special arrangements to use a separate bathroom altogether, it takes a toll on their quality of life, Cox emphasized.
To her point: A December survey from the National Center for Transgender Equality found 59% of trans Americans reported avoiding a public restroom for fear of harassment. Thirty-three percent of participants said they had even restricted their eating and drinking to avoid having to go to the bathroom at all. 
"When we have policies like this in place, it sends a message to trans youth that they're not equal, that they're less than and needed to be treated differently" Cox said. 
Speaking from personal experience, Cox said she faced her own struggles with depression and attempted suicide because of the shame and stigma associated with being trans. Ensuring trans people can use bathrooms that affirm their identity, she said, is a simple way to improve mental health in the trans community and pave the way for trans youth to be successful.
"Trans youth have a better outcome when they can use facilities consistent with how they identify ... they tend to thrive," Cox said. "When they don't have family support and protections in schools is when they run into all kinds of problems."
Darnell Moore contributed reporting.