7 books to read if you love 'Big Little Lies' by Liane Moriarty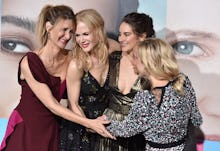 Big Little Lies, the new TV drama inspired by Liane Moriarty's book of the same name, premiered on HBO this past Sunday. The seven-episode suspense series about secrets and crimes in supposedly perfect suburbia has whet the appetites of wannabe law enforcement officials and lawyers everywhere. 
For those who can't wait for weekly updates on Madeline, Celeste and Jane, the mothers dealing with much more than just brown bag lunches and PTA meetings, good news: There are plenty of female-driven suspense stories and murder mysteries to pass the time in between the all-star episodes. 
Gone Girl
Gillian Flynn's novel took the country and just about every all-female book club in it by storm thanks to its tense pacing and intricately plotted story (not to mention feminist controversy) filled with secrets, lies and ulterior motives galore. If you're one of about five people who haven't read it yet, get a copy for your next lengthy trip — it will make the time fly by. 
Girl on the Train 
This novel by Paula Hawkins, which was recently adapted into a film starring Emily Blunt, is a psychological thriller in the best sense of the word. The narration switches between the voices of Rachel, Anna and Megan: an ex-wife, a new wife and an unhappy wife, respectively. Each of them have secrets they are desperate to keep to themselves, and Rachel's struggle with alcoholism only makes her narration even more unreliable — and the truth even more surprising. 
All the Missing Girls 
Megan Miranda's novel takes Nic Farrell, a young woman who escaped her past, right back to her childhood small town when she has to sell her family home. But her concerns quickly expand beyond real estate when she is caught up in the unsolved criminal investigation of the disappearance of her best friend, Corrine. Ten years have passed since Corrine went missing, but right after Nic gets to town, another young woman goes off the grid, and Nic might know more than she's letting on. 
The Good Girl
This thriller by Mary Kubica follows Mia Dennett, an art teacher who, after a mysterious disappearance, suddenly returns, but she is unable to recall who she is or what happened to her. The book, which alternates chapters between Mia's life before and after the abduction, invites readers to join Mia's family, the detectives and her doctor as they try to learn what actually happened to her. 
Tumbleweeds
Part murder mystery, part romance and part sports story, Tumbleweeds chronicles a small-town love triangle as two football stars vie for the attention of the new girl in town. Romance and violence follow as more than 30 years in these characters' lives are narrated and their secrets are revealed. 
The Rumor
Elin Hilderbrand offers a deliciously tantalizing look behind the meticulously painted front doors of Nantucket homes as a secret affair is made public under the guise of a new fiction novel. 
Someone Else's Love Story 
This story is not for the faint of heart. It involves a car wreck, sexual assault and gun violence, among other things. With narration alternating between two points of view, both science and faith are frankly discussed from a small-town Southern point of view. 
Mic has ongoing books coverage. Please follow our main books hub.