45 black-owned beauty and fashion brands to spend your money on now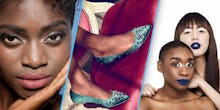 Although white women are often positioned as the centers of the beauty and fashion world — whether it be Kendall Jenner or Gigi Hadid or whichever young, white, thin model has caught the public's fancy any given week, or the plethora of white designers out there — you'd be mistaken to think that's really where fashion and beauty begins and ends. 
Because, as we know, for every Jenner there is a Jourdan Dunn. For every Michael Kors, there is a Ade Hassan, who's the designer of her own hugely successful inclusive lingerie company Nubian Skin. For every Emily Weiss, the founder of the beauty brand Glossier, there is a Melissa Butler, the black woman who founded the Lip Bar, which provides women of color cheap and vibrant lip shades. 
With black female entrepreneurs now the fastest-growing entrepreneur group in the century, there seems to be plenty of Hassans and Butlers in our future. 
So in honor of that, we've rounded up 45 of the best beauty and fashion brands out there, that just so happen to be black-owned.
Thought up by a woman named Ibi in 2011, the Afro Hair & Skin Co. markets itself as an Afro beauty and wellness brand, offering organic hair and skin products for various different hair textures and catering to the needs of women of color. 
With everything from lipsticks to eye shadow palettes to their famous foundations, Black Opal Beauty is one of the most complete and high quality makeup options for women of color, with a wide range of shades and a company history that dates back to 1994 to boot. 
Like many inventions and innovations, Cocoa Swatches, an Instagram account and app created by Ofunne Amaka in 2016, was born out of frustration. 
Swiping through Instagram, Amaka got sick of seeing lipsticks, eye shadows, eyeliners and other makeup swatched exclusively only pale skin, so she created her own account, @CocoaSwatches, which aimed to show new makeup on different shades of brown skin. 
"I knew the problem I was having was a pretty universal one," Amaka said. "I just didn't know how quickly people would start following and be interested." 
Right now, @CocoaSwatches has more than 77,000 followers, and Amaka has launched her own app, also called Cocoa Swatches, which offers her fans even more content around women of color and makeup they'd desire. 
Think of Cocotique as a Birchbox for women of color, with a monthly subscription box service full of products that cater to women of different races and ethnicities, from hair products to makeup and skin products. 
"From my own experience, I used to waste a lot of money trying different products for my hair and skin. Through extensive trial and error, I would find products that worked for me," Cocotique's founder, Dana Hill, said. "Many women don't have time for the search and discovery process, so we do it for them."
And Cocotique is far from the only beauty box service that's looked to improve things for women of color. There's also the Essence Beauty Box, Onyx Box and Curlbox and Curlkit, which sends products that help women of color's tresses. 
Born in Houston but raised in Nigeria, designer Eleanor Anukam's fashion brand is all about women with bigger feet. More specifically, women with size 9 to 13 feet who are looking for the cute, trendy shoes of their dreams. 
In an interview with Mic, Anukam elaborated on just how personal this quest was for her. "This is essentially me. I put in everything I dreamed into this," she said. 
With her sights set on not losing touch with her background or identity, Anukam bases each style of shoe on a woman she knows. And maybe it's that personal touch that's already gained her fans like Laverne Cox. 
"These women are physicians in France, style mavens in Nigeria, professionals in the USA," Anukam said. "There are housewives and celebrities wearing [Eleanor Anukam]."
Launched in 2012 by Melissa Butler, the Lip Bar specializes in vegan lip glosses and lipsticks in colors that pop on a variety of dark skin tones.
Madam CJ Walker Beauty Culture 
Based in the U.K., MDMflow was founded by Florence Adepoju, who goes by the name "Flow." The entire makeup collection, which is mostly lipsticks, draws inspiration from '90s and early '00s hip-hop culture, with names like "Bossy" and packaging that's gold and glossy. 
Started in Brooklyn, New York, by Nnenna Stella, the Wrap Life offers a wide range of head wraps in bold prints and colors (including hand-printed ones) and includes tutorial videos for the many styles one can wear their wrap. In addition, the "Sacred Space" section of her site includes hand-cut soap and incense altars.