Kansas man shoots two Indian men he thought were Middle Eastern, killing one of them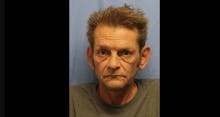 On Wednesday, a suspect allegedly shouted "get out of my country" before opening fire at two Indian men at a bar in Olathe, Kansas — just a stone's throw away from Kansas City.
Adam Purinton, 51, reportedly targeted two Indian men — Srinivas Kuchibhotla and Alok Madasani — before shooting his third victim at Austin's Bar and Grill. Kuchibhotla died from the shooting. Purinton was charged with first-degree murder for the death of Kuchibhotla, and was also charged with two counts of attempted first-degree murder.
Ian Grillot, the third victim, was shot after trying to stop Purinton from his shooting rampage, according to Kansas City Star. Purinton, a Navy veteran, then ran from the scene to an Applebee's in Clinton, Mo., where he told a bartender he had killed two Middle Eastern men. 
Kuchibhotla and Madasani were both employees at Garmin. The company released a public statement after the shooting.
"We're saddened that two Garmin associates were involved in last night's incident, and we express our condolences to the family and friends of our coworkers involved," the statement read. "Garmin will have grievance counselors on site and available for its associates today and tomorrow."
Nicholas Turner, 24, is Grillot's cousin. He told Mic in an email that he believes the shooting was a result of President Donald Trump's controversial rhetoric and discriminatory policies, such as the travel ban.
"Extreme cases like what happened at Austin's Bar and Grill, which resulted in the loss of an innocent man's life and the injury of two others, including my cousin, Ian, are atrocities that President Trump should be held accountable for," Turner said in a Facebook message. "My thoughts and prayers are with the deceased's family and all of those injured and affected by the events that transpired."
Sam, who asked to withhold her last name in fear of harassment, is an immigrant from Saudi Arabia and lives right outside Olathe. She said she might've met the victims since she frequently accompanies her aunt, who works at Garmin, to the company's events. 
"A relative of mine works at Garmin, so I might have even been at some of the same company events, such as Winter Fest last year, since all Garmin employees were invited to the dinner."
Sam said the triple shooting — as well as President Donald Trump's anti-Muslim rhetoric — has left her terrified in Kansas, especially after fleeing a country where she was punished for leaving her own home.
"These shootings make me feel like I never want to eat out in this area again, and it's not like I need another reason to add to my anxiety of leaving the house already," Sam told Mic in an email.
The Olathe Police Department did not yet respond to Mic's request for comment.