Here are the emotional images from the final day at Standing Rock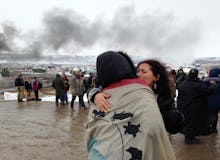 With the ashes of the burned Dakota Access pipeline protest camps still smoldering, police moved in less than 24 hours after the government-issued deadline to evacuate to begin clearing out the detritus.
With some sources reporting law enforcement had made at least 40 arrests on Thursday, the media's presence at the epicenter of the resistance movement opposing the pipeline's construction had thinned considerably, and images and video became scarce.
Below are some of the best images that were captured from Standing Rock's last stand before a total media blackout went into effect.