Richard Spencer calls Depeche Mode "the official band of the alt-right." Band hits back.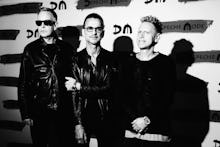 Every movement needs a soundtrack, and notorious alt-right icon Richard Spencer has seemingly found his: '80s English electronic band Depeche Mode. 
Responding to a question about whether or not he likes rock music — a black-pioneered art form — outside the Conservative Political Action Conference on Thursday, Spencer jokingly claimed that Depeche Mode is "the official band of the alt-right."
Before getting into how hypocritical Spencer's choice is when considering his views, the band should speak for themselves. In short, they're not super enthused about the endorsement. "That is a ridiculous statement," a representative for the Depeche Mode told Pitchfork. "The band has no ties to Richard Spencer or the alt-right and does not support the alt-right movement."
Spencer himself has since claimed it was a joke, and that he's "a lifelong Depeche Mode fan."
It's unlikely that the band and Spencer would see eye to eye on many of the issues that Spencer advocates for. Consider the lyrics to one of the band's biggest hits "People Are People," which points out the absurdity of hating another person just based on their creed or skin color:
"People are people/ So why should it be/ You and I should get along so awfully/ So we're different colours/ And we're different creeds/ And different people have different needs/ It's obvious you hate me/ Though I've done nothing wrong/ I've never even met you so what could I have done/ I can't understand / What makes a man/ Hate another man/ Help me understand"
There's also the fact that Depeche Mode's lead singer, Martin Gore, is biracial, his father being a black man. Spencer has been extremely vocal about his belief that black people are less intelligent and don't have that "Faustian drive or spirit" of white Europeans. Perhaps he would make an exception in Gore's case, considering he previously stated that race mixing "is not really a threat to White Identity, to be honest, simply because of numbers."
Even before today, the alt-right movement has been searching for music fit to amplify their movement. Trying to find a Western popular genre that hasn't been pioneered by black artists is extraordinarily difficult, so alt-right artists have had to invent their own. It's led to the embrace of synthwave and the rise of fashwave, a style of music, as Buzzfeed's Reggie Ugwu wrote, that "sounds sort of like the soundtrack to a vintage buddy cop movie, only instead of a black cop and a white cop, both cops are white and neither believes in the Holocaust."
Much of it, honestly, shares Depeche Mode's same fascination with synthetic sounds and robotic rhythms, but uses them to channel an entirely different set of emotions and values. However you slice it, Depeche Mode is closer to the antithesis to the alt-right rather than its musical saviors. And fans are making that known. Already, the internet is throwing out new remixes of Spencer's infamous "face punch" video, sporting some Depeche Mode classics.
Mic has ongoing music coverage. Please Follow our main music hub here.