A 'Gateway Pundit' writer's whole gig is praising 'Gateway Pundit' writer Lucian Wintrich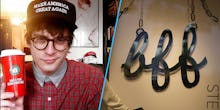 Some of people's favorite pairs in media history are best friends. Lucy and Ethel. Timon and Pumbaa. Ren and Stimpy. 
Add a new pair to that list: Lucian and Matt. 
Recently, Gateway Pundit writer and Twinks4Trump creator Lucian Wintrich has been the subject of several laudatory articles written by Matt Armstrong and published on Gateway Pundit. The articles are mostly victory laps that praise Wintrich for his commentary and slight or bash the mainstream media for hostility toward Wintrich. 
Gateway Pundit came under scrutiny for hiring Wintrich, who had little previous journalism experience, to be a White House press reporter. Pundit is known for its place on the blogosphere as a right-wing clickbait factory popular with the alt-right. 
Since Feb. 18, Armstrong has written four articles for the site, each concerned with one topic: Lucian Wintrich. Armstrong's first article praised Wintrich, saying he "killed it" on an episode of local affiliate KDLN's Allman Report. His second article attacked Rachel Maddow for a segment he deemed "a new all-time low" for the MSNBC host. 
Subsequent articles praised NBC for running an "enlightening" article on Wintrich and decried gay New York "fascists" who made an "insidious attempt" to silence Wintrich when they asked people to delete him on Facebook. The final article included leaked screenshots of a conversation between Wintrich and another person, and claims the person's vendetta against Wintrich stems from Wintrich's refusal to sleep with him. 
At first, Mic had trouble finding any public-facing social media profiles for Armstrong. However, Mic was able to find him on Facebook and get his email address. 
In an email to Mic, Armstrong confirmed that Wintrich brought him on board to Gateway Pundit. 
"Hey Mat (cool spelling of Mathew), I just started working at the Gateway Pundit," Armstrong wrote. "I used to write for Vanity Fair under the alias Christopher Hitchens. I was brought on board when I met Lucian Wintrich at a spirit cooking party. I praise Lucian because during a ceremony praising the god Kek we made a blood pact with Mulich the owl god." 
While "kek" is a translation of "lol" on World of Warcraft, "Mulich the owl god" is probably a reference to Alex Jones' documentary about Bohemian Grove, in which he claimed he saw elite world leaders sacrifice a baby to an owl god named Moloch. Writer Christopher Hitchens, who did write for Vanity Fair, died in 2011 at 62 years old.
Wintrich called Armstrong a "talented upstart" in an email to Mic. 
"He is a true patriot that understands how publications like Mic have been polluting the American mind through the blogging of trash content for far too long," Wintrich wrote. "He is a rebel who isn't afraid to cover the stories that are currently underserved to the American people. He is a trailblazer who is never satisfied with simply skimming the surface of any issue or story." 
In an email to Mic, Gateway Pundit founder Jim Hoft said Armstrong is "doing a terrific job" as a "rookie contributor" to his site and that he is "very pleased" with his contributions. 
"Matt has amazing talent and we look forward to his upcoming stories on Lucian and the topics of the day," Hoft said.
Remember, everyone, find someone who looks at you the way Matt Armstrong looks at Wintrich's every single media appearance.