Calvin Harris drops "Slide" featuring Frank Ocean, Migos: Download and streaming options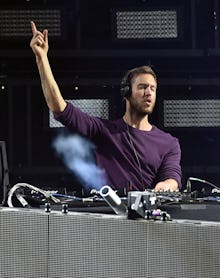 After teasing the stylish summer collab earlier this week, Calvin Harris has released "Slide," his first single of 2017, featuring the reclusive Frank Ocean and Migos. 
The disco bop is Ocean's first official feature since he released his mystifying Blonde in August 2016, and easily the most slick and accessible song he's done since the Channel Orange era. And Migos, well, Migos is on top of the world right now. Packing that much star power onto a self-produced track is a hell of a way for Calvin Harris to rebound from the sobering Taylor Swift breakup music he was making last year. It absolutely enters his name into the pool of must-watch artists in 2017.
Listen to the song below via Spotify, stream through Tidal or Apple Music or purchase through iTunes.
Harris shared the above liner notes for the song on Tuesday. They list Harris as the only producer, working a range of synths to craft the soulful jam. He's one of four writers, listed under his real name, Adam Wiles, alongside Christopher Breaux (Ocean) and Quavious Marshall and Kiari Cephus (Quavo and Offset from Migos). It's something he says he plans to do for all his 2017 releases, "so u can recreate my songs live in the comfort of ur own home," as he tweeted.
"All my songs in 2017 have been sonically designed to make you feel fucking incredible." Harris added in a series of tweets. "I'm making music to make your soul happy."
Stream via Apple Music, Tidal or Spotify below and see if "Slide" lives up to that promise.
Mic has ongoing music coverage. Follow our main music hub here.