I watched Standing Rock protesters dance for victory. Then the police arrested us.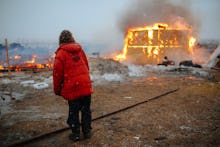 STANDING ROCK, N.D. — Where there was once a teeming city of prayer and resistance, there is now fire, ash and mud.
On Wednesday, police started forcing out the water protectors of the Oceti Sakowin Camp, which became the front lines of the Dakota Access Pipeline protests. The police raids swept up at least 40 of the remaining water protectors on Thursday, who were determined to camp there until riot police pulled them away. Until the last moments, with smoke billowing over camp and the mud up to their ankles, the Standing Rock resistance danced and sang for victory.
In early December, at the height of the Standing Rock resistance, Oceti Sakowin Camp was a bustling city of thousands of inhabitants built on donations and volunteer labor, complete with its own school for the local children. If it were a recognized municipality, the collected camps at Standing Rock quite possibly would have been one of the top ten largest cities in North Dakota.
But on Wednesday, Oceti Sakowin Camp was laid to waste. Where there were structures with roofs so strong you could walk on them, there was ash and debris. Hundreds came through at the urging of tribal leaders to clear away the mess halls, tipis and communal sleeping spaces. 
In a mess hall that was once a meeting space for orientation, prayer and keeping warm through the winter, people loaded a wood stove and smoked cigarettes in the darkness, waiting and laughing together. Still ladling out soup into small bowls, the cook said he would stay as long as he could.
Rain turned to snow and back again, and it was nearly impossible to keep dry or warm. Long-term residents of Standing Rock threw bags into the back of pickup trucks, falling back to safer camps farther from the drill site. Medics frantically searched for a missing child — later found — over the radios. Some huddled under empty tents or in abandoned cars, waiting for the police to raid at 2 p.m.
The last victory dance
Before police arrived for the raid, the water protectors held a final prayer walk, gathering at a sacred fire to take coals to carry on the walk.
"We don't accept defeat," the leader of the prayer walk said as water protectors received war paint. "We're here to tell the spirits that we won. We won."
Before they left the Oceti Sakowin Camp, they performed one final victory dance, knowing it would be their last around the sacred fire.
"This place is going to be gone physically, but this fight is always going to be in our hearts," he said. "This fight's always going to continue."
As the camp burned in the distance, clouds billowing over the ridge, a banner read: "We claim this unceded land," they danced and sang, drums beating. When they reached the south gate, some went on to other camps far from the front line — like Cheyenne River Camp and Rosebud Camp — and some turned back to face the oncoming police lines.
Tied and taken
When it came time for the raid, the water protectors gathered in what few shelters were left to feed the wood stoves. Some were outside holding banners and singing.
Much of the media chose to evacuate the area, not covering the raid or arrests. Those who stayed were doled out advice by campers — some accurate, some not — driven by rumors, personal experience and fear: That livestreams will be interrupted by police devices; that cameras and laptops will be confiscated, broken and lost, never to be returned; that there would be tear gas.
When it came time for police to move in, they slowly marched forward in a line on the road above the camp. They stopped at the head of a camp entrance, flag road, leading many to believe the media could be at a safe distance to film while police entered camp.
But the police didn't veer down the hill along a separate entrance into the camp, as expected. Instead, they sprinted forward on the road toward a handful of protesters and the media covering them, batons waving in full riot gear. Burdened by the weight of luggage, a camera and a hefty portable battery there was no way I was going to continue to retreat quickly enough. They were five feet away. I dropped to my knees, head bowed, hands up. Nine of us were arrested at first — me, an independent journalist and seven water protectors — charged with obstructing a government function (Mic is contesting this charge).
They took our mugshots with the hills of North Dakota at our backs.
After a couple of officers posed with me as a prop in their selfie, they confiscated my belongings, and later took my laptop and camera into evidence.
We were zip-tied and taken to Morton County Correctional Center, where we were kept in chain-link cages in the garage. Police would arrest dozens more throughout the night and next morning as they raided the camp, and they needed to clear us out to make room.
In just under an hour, we were zip-tied again and loaded back into a fully packed van. We were not told where we were going, and sat with wrists painfully bound behind our backs for three and a half hours until we reached the cell blocks in Lake Region Law Enforcement Center, over 150 miles northeast toward Winnipeg.
The mostly white residents of the counties surrounding Standing Rock are hostile to the cause of the Standing Rock resistance — between 77% and 85% of eligible jurors who will decide the fates of many protesters already presume the water protectors to be guilty. But in jail, the arrestees from Standing Rock were greeted warmly by inmates in the cell blocks. Though the jail had run out of food, we were offered snacks and advice about navigating life at the facility by some who'd been languishing in the crowded jail for weeks, awaiting court dates for DUIs and other misdemeanors.
For those who fought against the construction of the Dakota Access Pipeline, all is not lost. 
Although police have made their last arrests and cleared Oceti Sakowin Camp, water protectors have moved on to other camps farther from the front lines. Meanwhile, the tribal government of the Standing Rock and Cheyenne River Sioux tribes still intend to push back against Energy Transfer Partners, the company building the Dakota Access Pipeline, through legal means.
And in their resistance, the Standing Rock water protectors became a model for a peaceful protest movement, both for the many indigenous sovereignty struggles for the environment that continue across the country, and other movements among the waves of protests since Trump's inauguration.
As the leader of the prayer walk said, just before the raid: "This woke all of us up, and the whole world is going to see beautiful things because of what we did here." The world turned its eyes to Standing Rock.
"We need to let those spirits know, let the police know, let the pipeline know that even if they remove us from here, we still win," he said. "We still win, because our spirits are still intact."