Caitlyn Jenner just broke her silence with a takedown of Trump's attack on trans students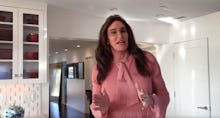 Caitlyn Jenner has broken her silence. 
On Thursday evening, the transgender Olympic gold medalist ended what many perceived as too long of a silence on the Trump administration's decision to lift the Obama administration's guidance protecting transgender students from discrimination.  
"I have a message for the trans kids of America," Jenner said in a video posted to Twitter. "You're winning. I know it doesn't feel like it today or every day. But you're winning. Very soon we will win full freedom nationwide, and it will be with bipartisan support." 
Jenner encouraged those watching to check out the National Center for Transgender Equality and make their voices heard to congresspeople in Washington, D.C.
Jenner then turned from talking to her community to talking to her foes. 
"Now, I have a message for the bullies," she said. "You're sick. And because you're weak, you pick on kids. You pick on women or anyone else you think is vulnerable. Apparently, even becoming the attorney general isn't enough to cure some people of their insecurities." 
Jenner then gave a shoutout to Gavin Grimm, whose Supreme Court case is set to be heard in March. Grimm is suing Virginia's Gloucester County school board for being denied the right to use the men's restroom, which aligns with his gender identity. 
"Mr. President, we'll see you in court," Jenner quipped in the video.
She closed with a message to Trump, who infamously tweeted that he planned to protect the LGBTQ community. 
"From one Republican to another," the athlete to began. "This is a disaster. And you can still fix it. You made a promise to protect the LGBTQ community. Call me."