Trump White House asked FBI to shoot down a story, violating rules on communication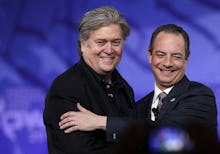 President Donald Trump's top White House officials went to the FBI earlier this month to ask the federal law enforcement agency to push back against media reports that Trump officials had communicated with the Russians during the campaign, according to a bombshell CNN report published Thursday night.
According to CNN's report, White House Chief of Staff Reince Priebus went to FBI Deputy Director Andrew McCabe to persuade the FBI to dispute the Feb. 14 reports that say Trump officials spoke to the Russians, a violation of long-standing rules that prohibit the White House from talking to the FBI about pending inquiries. 
FBI Director James Comey, however, denied the White House's request to shoot down the story in the media, saying the alleged communication between Trump associates and the Russians is still under review, according to CNN's report.
The Trump administration requesting help from the FBI is hypocritical on multiple levels.
For starters, the Trump campaign was up in arms last summer when former President Bill Clinton had a chance meeting with then Attorney General Loretta Lynch on an Arizona tarmac before an investigation into Hillary Clinton's emails had wrapped.
"It was really a sneak," Trump said of the meeting at the time, according to CNN. "You see a thing like this and, even in terms of judgment, how bad of (sic) judgment is it for him or for her to do this? Who would do this?"
Republicans alleged Clinton could have pressured Lynch not to prosecute his wife — with some going as far as to demand Lynch's recusal from the case.
"This incident does nothing to instill confidence in the American people that her department can fully and fairly conduct this investigation, and that's why a Special Counsel is needed now more than ever," Senate majority whip John Cornyn said of the meeting.
CNN's report, however, shows the Trump administration directly sought assistance from the FBI to comment on an ongoing investigation. 
Even more hypocritical is that, according to CNN's report, Priebus asked Comey to be an anonymous source to reporters to knock down the report of communication between the Trump campaign and Russians.
However over the weekend, Priebus went on CBS' Face the Nation to demand reporters stop using anonymous sources in their reporting.
"I think that the media should stop with this unnamed source stuff," Priebus said. "Put names on a piece of paper and print it. If people aren't willing to put their name next to a quote, then the quote shouldn't be listed. Period."
Hypocrisy aside, CNN's Thursday night report is only going to heighten Democrats' calls for further investigation into Trump and his staff's communications with Russia. 
"Shine a light on what @realDonaldTrump and his team are trying to cover up," Rep. Eric Swalwell (D-Calif.) tweeted after CNN's report surface. "Support #ProtectOurDemocracy Act for #RussianHacking commission."