Oddisee's 'The Iceberg' shows an MC reluctant but ready to be a voice for the voiceless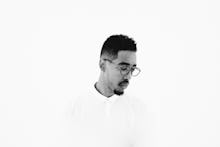 People think they know what an underground rapper looks like. Cobbling together visions from Immortal Technique videos and 8 Mile, they picture a hooded revolutionary, a righteous teacher willing to sacrifice for their art and the pursuit of truth.
The image is at odds with the beautiful smoked honey and cheese plate laid out on the kitchen counter in Oddisee's apartment in Brooklyn, New York, where the rapper hosted me for a listening session of his latest record, The Iceberg.
"There are no starving artists here," said Oddisee, real name Amir Mohamed, as he offered a plate of olives with purposeful pageantry.
The news may come as a relief to Oddisee's dedicated international fanbase, which has followed him through two dozen studio albums, mixtapes and EP releases since 2005. A recent New York transplant, Oddisee started his career in the Washington, D.C., metro area, producing an eye-opening blend of jazz-inflected, J Dilla-esque hip-hop. Much of his lyrical body of work reflects the Golden Age maxim that hip-hop at its best serves as a voice for the voiceless.
It's not music one might immediately think would pay the bills and then some, but it's clear at least one visionary has found ways to work the licensing and touring game to persist, without having to compromise their art in the slightest. If anything, with The Iceberg, Oddisee's work has only gotten darker and more urgent, matching the pitch of today's news but resisting the impulse to just rage aimlessly at the headlines. The MC mines his experiences as a biracial Sudanese Muslim and black American to shine a spotlight on racism, Islamophobia and nativism, further establishing himself as one of the most insightful and necessary perspectives in underground rap. Perhaps even more importantly for independent hip-hop as a whole, it continues to challenge the stereotype that thought-provoking music can't also be extremely danceable and fun.
"A lot of underground rap is polarizing, where it forces you to think but you don't necessarily enjoy the music — it becomes preachy and chastising and self-righteous," he said, straightening his horn-rimmed glasses and fixing his grey, label-less sweatshirt. "But a lot of mainstream music does the polar opposite, where it's all about making you enjoy life and numbing you to the reality around you."
On The Iceberg, Oddisee seeks a middle path. Backed by lush soul loops, his stirring lyrics tackle social ills like poverty in the black community ("Built By Pictures"), the range of opinions about cops who kill ("Rights & Wrongs") and how Islamophobia alienates Muslim children ("You Grew Up"). The album's blistering soulful production helps the songs go down smooth, cultivating a vibe like Marvin Gaye's What's Going On.
"There are things that are on this record that I don't think I've heard people say in a way that actually still makes me enjoy the music at the same time," Oddisee said. "I'm hoping I pulled that off."
Oddisee's "NNGE" verse striking out at racism and Islamaphobia stunts on one of the year's most virulently infectious beats of 2017 thus far. "Like Really" sees Oddisee weighing a laundry list of hotbed issues that still for some reason exist in the realm of opinion, spitting double time over a jazz-tinged trap beat and rainy day piano line. "How you make a film about Egypt with all leading roles caucasian? (Nah, like really)" he says. "We're just picking between the evils of the lethals and the liars/ People tired and they really need a voice."
The record didn't start off with such sprawling aims, Oddisee said. At first, he hoped to write an album that would give his live band a workout onstage and let fans explore the deeper meaning behind what's going on in the music industry, which Oddisee has seen try to co-opt his independent cool to develop artists who haven't earned the fame.
"That's where the title The Iceberg came," Oddisee explained, "because people only really see the surface, but they don't understand what's underneath."
However, as he was working on the record, "the world just kind of caught fire," as Oddisee phrased it, nodding to terrorist attacks in Paris and the refugee crisis going on in Syria and Europe.
"We were a witness to all of it simultaneously because we were going on tour at that time," he said. "Looking at the stark contrast present on social media, there seemed to be a severe lack of critical thinking. I started to realize that things were far deeper than the world understood, in everything, and it started to become about more than my personal fight in my career."
"You ever had a friend who became a fanatic?" Oddisee asks on "You Grew Up," which relates a story Oddisee once heard of a Sudanese Muslim boy growing up in the United Kingdom who was mercilessly picked on for his faith as a boy. Trauma and otherization, Oddisee concludes, can turn a boy towards ISIS more effectively than anything in the Quran:
"You can raise a child in a house full of love," Oddisee raps, "But can't keep them safe from a world full of hate/ So he blew up."
The rise of Donald Trump's brand of nativism poses an unprecedented threat for Muslim Americans like Oddisee: The rapper cannot visit his family in the Sudan, and he'll likely have to cancel shows there if Trump's ban on travel from seven majority-Muslim nations finds a way to rear its feathery head again.
"My manager and friends alike have all urged me to be more socially active in the fact that I am Muslim, that I am Sudanese," he said. "But I've been reluctant to lean on those things to gain attention, because I felt like it's what am I doing it for, am I doing it for the betterment of what people are going through? Or for my own gain and attention? But alas, it's my own reality. These things are directly affecting me now, I have to be involved, you know what I mean?"
On the whole, there's an incredible resilience to the album. Even in its darkest moments, it pushes a sort of radical hope. "I'm from black America this is just another year," Oddisee raps on "NNGE." "If you're new to disrespect by your elected puppeteers/ Well let me show you how to persevere."
The album recommends that individuals remain patient, creative and confident in a country that seeks to kick them out in the "name of defense," as Oddisee tells it over the sunny guitars of "Want It to Be." Looking into the ways minority communities approach mental health on "Waiting Outside," he urges listeners to recognize the signs that they're reaching a breaking point and seek productive ways to the channel anger.
Together, it all amounts to a fairly direct ask for listeners and critics to think more critically about this country's culture and politics, over some of the most musically ambitious, chord-swerving, time-signature-ducking hip-hop any artist has ever attempted.
Oddisee sees proof his music is connecting. Between dousing crackers in smoked honey and helping his wife bring in the laundry, he tells a story about playing a show last year in Munster, Germany, where he invited a few fans up to his green room because he was too tired to "go out into the crowd and shake hands and kiss babies," as he said he usually does.
"White German guy and his girlfriend, Sudanese guy and his friend, Indonesian, Turkish guy and either his sister or his girlfriend," Oddisee says, setting the scene. "And we're sitting there talking and they're like, 'I like this song or that song,' and I just had them eat what was back there in the greenroom."
"Would any of you really talk to each other, outside of this context?" Oddisee asked.
"'Probably not, no,'" they answered.
"And I said, 'That's my purpose,'" he said. "I need to be that Muslim American on that stage, bringing people into that environment where they would never actually talk to each other. Maybe they'll realize they have other things in common as well."
Mic has ongoing music coverage. Follow our main music hub here.
Feb. 24, 2017, 11:19 a.m.: This story has been updated.