Source: Perez narrowly leads Ellison in nail-bitingly close race to lead the DNC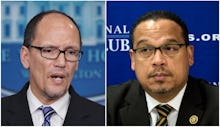 If you thought the primary between Hillary Clinton and Sen. Bernie Sanders (D-Vt) was contentious, then prepare for another dogfight on Saturday, when the Democratic National Committee meets in Atlanta to elect the party's next chair.
With less than a day to go until the election, the race between Minnesota Congressman Keith Ellison and former Labor Secretary Tom Perez is neck and neck.
The race will be decided by a simple majority vote of the DNC's 447 members. Although neither camp has released internal polling numbers, both say their private whip counts show they have the votes needed to secure victory. A source close to Perez who spoke on the condition of anonymity because they were not authorized to speak for the campaign said its internal numbers show Perez has over 200 votes while Ellison has closer to 150.
"Tom is in a very strong position right now, with over 180 committed members," Perez spokesperson Xochitl Hinojosa said in an interview.
But several informal polls conducted by media outlets this week show different results. A Hill survey tally of 240 members' votes indicated that Ellison is leading Perez, 105 to 57, with more than 50 members undecided.
"We've had incredible momentum and we feel good about the state of the race," a top Ellison adviser said in an interview on the condition of anonymity because he wasn't authorized to talk about polling numbers.
The truth is, neither candidate is a sure bet.
That the race remains so contentious and close underscores the degree to which this vote has become a test of where the Democratic Party will go in the wake of Hillary Clinton's bruising 2016 election defeat. The DNC chair serves as the chief spokesperson for the party and is tasked with matters such as fundraising and recruiting candidates to run for office nationwide.
On the substance, there are few differences between the two candidates, but the race has turned into a sort of proxy war: Ellison is seen as representing the party's left-wing, Bernie Sanders contingent and Perez is viewed as representing the more moderate Clinton camp.
The two candidates — who were recently spotted having dinner together in Washington — have largely avoided public confrontation. Both reject the notion that the race is a showdown between the base's ideological factions and have pledged party unity no matter what the outcome.
"The Democratic Party needs to listen to the concerns and demands of working people in this country."— Winnie Wong
But their supporters are a different story. The election has exposed many of the same rifts which emerged during the Democrats' heated 2016 primary contest. After Biden endorsed Perez, for example, Bernie Sanders sent out a statement calling Perez part of the "failed status quo."
Winnie Wong, an Ellison supporter and a lead organizer for Bernie Sanders's presidential campaign, said in an interview that an Ellison loss would serve only to further divide the party.
"We have to win," Wong said. "If the Democratic party wants to be the party of the people, then they need to listen to the concerns and demands of working people in this country. Keith is the leader who will work well with grassroots groups. I don't know how well I would be able to work as a political organizer under a canopy led by Tom Perez."
Wong said an Ellison loss would be viewed by Sanders supporters as a major disappointment.
"People will not be surprised because Perez is the establishment and this is how it always is," Wong said. "Whether people will exit the party, I can't speak to that, but I'll feel enraged and I will be thinking carefully about my next steps."
For his part, Perez has committed to bringing Ellison voters into the fold.
"Tom is really committed to unifying the party," Hinojosa said. "We need to regain the trust of the DNC. He will engage everyone and [if he wins], he's committed to reaching out to all supporters and non-supporters."
Most likely, the vote will not be decided on a first ballot. If no candidate receives a majority, voting continues in subsequent rounds until a winner emerges. Under that scenario, some party insiders believe a third consensus candidate could emerge to bridge polarized camps.
Another candidate who is hoping he can play that role is Pete Buttigieg, the 35-year-old South Bend mayor who has made a late surge in the race. Earlier this week, Buttigieg received the endorsement of former DNC chair Howard Dean, who will be stumping for the candidate in Atlanta this weekend.
"People are looking for a consensus candidate," Buttigieg spokesperson Matt Corridoni said in an interview. "We believe this will go through multiple ballots."
Although Buttigieg is campaigning as the only millennial in the race, it was Ellison who recently received the endorsement of more than 200 millennial leaders, including various leaders of the Black Lives Matter movement and Linda Sarsour, the national co-chair of the Women's March.
Wong said she will spend the next several days speaking directly with members to make her case for Ellison.
"I feel optimistic that Keith will edge it out and win," Wong said. "But it really depends on if the Democrats are listening to the groundswell of support that Keith is receiving from the grassroots."
Meanwhile, Perez will continue to preach party unity as he makes his final pitch to members.
"His main message will be that we need to unify the party," Hinojosa said. "He's committed to going on a unity tour, win or lose."