Donald Trump, whose White House asked FBI to leak information, now decries leaks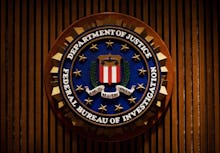 President Donald Trump once again decried the leaks coming from the FBI about his administration's alleged connections to Russia, saying the leaks "could have a devastating effect" on the country.
But Trump's concerns about the leaks ring hollow for multiple reasons — chief among them is that his own staffers only recently asked the FBI to leak information.
Earlier in February, White House chief of staff Reince Priebus went to the FBI to ask them to shoot down a story about Trump campaign officials' alleged communication with Russian spies via unnamed sources, CNN reported Thursday night. 
The request violated rules that limit the White House's ability to talk to the FBI about ongoing investigations, according to CNN.
Similarly, the leaks coming from the FBI don't appear damaging to the U.S.
If anything, they are damaging to Trump and his inner circle, who are forced to answer questions about their alleged communication with Russia during the election. U.S. intelligence believes Russia carried out cyber attacks during the election in order to boost Trump's chances.
What's more, Trump's angry tweet about leaks came the morning after CNN's story broke about his campaign's improper communication with the FBI — forcing his administration to deal with yet another scandal of their own doing.
All of that hypocrisy was not lost on Twitter.
Guy Benson, a conservative political commentator, pointed out the timing of Trump's angry leak tweets, noting they "coincidentally" came the morning after news broke that the FBI refused to leak favorable stories about Trump.
Others pointed out that the Trump administration specifically asked the FBI to leak information.
And others say Trump's anger about the leaks confirms that the information within them is real.
"This seems like presidential confirmation that the White House asked the FBI to help cover Trump campaign ties to Russian officers," Evan McMullin, who ran an independent campaign for president in 2016, tweeted.