Casey Affleck's Oscars speech: "I wish I had something bigger and more meaningful to say"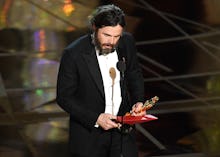 The envelope has been opened and the name read — Casey Affleck has won best actor for his performance in Manchester by the Sea. 
Heading into Oscar Sunday, several of the major awards seemed to be all but locked-up. We were all sure Viola Davis would win best supporting actress for Fences, and Damien Chazelle's directorial work on La La Land was all but guaranteed to make him the youngest best director winner in Oscars history. 
One of the major awards that was somewhat up for grabs, though, was for best actor. The race had been narrowed down to essentially two competitors: Denzel Washington for Fences and Casey Affleck for Manchester by the Sea. For quite some time — especially after wins at the Critics' Choice Awards and Golden Globes — it was Affleck's prize to lose. 
Then came the Screen Actors Guild Awards. 
In what could be seen as an enormous upset, Denzel Washington took home the SAG award for his commanding performance in Fences. Washington's SAG win all of a sudden made him a favorite to take home the corresponding Oscar — the last 12 Oscar winners for actor in a leading role had previously won the SAG award that year. 
The BAFTA Awards, however, added another wrinkle to this race, awarding best actor to Casey Affleck (Washington was not even nominated). And, of course, Ryan Gosling always stood a shot considering how beloved La La Land was by the Academy. In the end, the BAFTA and Golden Globe awards were predictive, and Casey Affleck took home the Oscar for his performance in Manchester by the Sea. 
Accepting his award, Affleck thanked his fellow nominees and credited Denzel Washington with being one of the first to teach him how to act. Affleck also thanked his director Kenneth Lonergan, before stating that he wished he "had something bigger and more meaningful to say."
You can watch Affleck's entire acceptance speech below:
Missed some of the Oscars? You can find who has won all of the night's prior awards right here. 
Mic has ongoing coverage of the Oscars. Please follow our main Oscars hub here.