A trans teen boy has to wrestle in a girls' tournament because of a backward Texas rule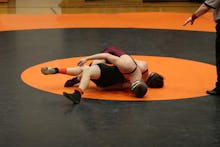 A Texas policy requiring students to compete on teams that correspond to the sex that appears on their birth certificates has kept transgender teen boy Mack Beggs on the girls' wrestling team all season. On Friday, after a 52-0 winning streak, Beggs is slated to compete in the girls' wrestling state tournament.
But no matter the outcome of Friday's championship match, the situation is a lose-lose for Beggs, who has been forced to compete in a league at odds with his gender identity. What's more, many of those fighting for his right to compete against boys do so less because they're concerned about trans-exclusionary rules, and more because they believe Beggs' hormone therapy gives him an unfair advantage over his female opponents.
According to the Washington Post, an "unhappy parent" even went so far as to file a lawsuit calling for Beggs to be allowed to compete in the boys' league.
A disappointing regional qualifying match
On Saturday, Mack won a regional qualifying match when two of his competitors forfeited — a decision that was allegedly made for at least one of the female wrestlers by her coaches, who felt it may be unsafe for her to compete against Mack.
"Today was about bias, hatred and ignorance," Beggs' grandmother and guardian, Nancy Beggs, told the Dallas News. Though Beggs had never faced his regional finals opponent before, he had previously wrestled other members of her team, according to Nancy Beggs. "They know each other and they were not happy with this," Nancy Beggs said.
In a Facebook post the day after the qualifying match, Beggs said he was "disgusted" by the discrimination that was coming not from his peers, but rather from parents and coaches.
"These kids don't care who you put in front of them to wrestle," Beggs wrote. "We just want to wrestle. They are taking that away from me and from the people I'm competing with."
No more federal protections for trans students
What Beggs is facing became even more prescient this week, when President Donald Trump lifted former President Barack Obama's protections for trans students in public schools.
While Obama's guidance had been primarily a response to questions of which bathroom trans students should use, it also had bearing on other gendered facilities and institutions, like locker rooms and sports teams.
Hudson Taylor, founder and executive director of Athlete Ally, an LGBTQ advocacy group, said Obama's trans protections encouraged athletic programs to think about how to make sports more inclusive and welcoming to people of all genders — and Trump undid all of that.
"That the Trump administration rescinded those guidelines shows they don't support trans students and makes the experiences of athletes like Beggs more difficult," Taylor said in a Friday interview.
Beggs' story hits particularly close to home for Taylor: He himself was a three-time all-American collegiate wrestler. He's always loved wrestling because it allows for all kinds of body types, and therefore allows for the most diversity. 
Texas' policy and Trump's rollback of trans protections, Taylor said, does trans students like Beggs a huge disservice in shutting them out from the joys of athletics.
"Sports offer unparalleled physical, social and emotional growth," Taylor said. "When we have sporting structures and policies that isolate, exclude or other trans athletes, students like Beggs are being denied the opportunity to have the same positive experience as their cisgender counterparts."