Does Future diss Ciara on "My Collection"? 5 times Future gets personal on 'HNDRXX'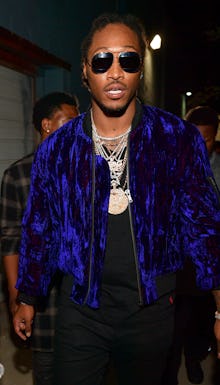 Future has some things to get off of his chest on his new opus, HNDRXX. On his sixth studio album, the rapper channels his musical persona Future Hendrix, who is more of a sensitive R&B crooner than the boastful rich hustler he exhibits on his first February album release Future. Find out how to download and stream HNDRXX here. 
As Future rap-sings over soul-centric trap beats, he delves into failed relationships, spoiling the women he loves or lusts after, and possibly calls out an ongoing legal dispute with rapper Rocko, who signed Future to his label, A1 Recordings, in 2011. His decision to go there on this album was all intentional.
"This is me opening up and just letting it all out so I could just move past it and certain things don't have to speak on it again," he said on Apple Beats 1. He later added, "I only feel responsibility for telling the truth." 
This is Future's second album release this month. Last Friday, he dropped Future, a project filled with more imagery of the trapping lifestyle and the fast life on over the top aggressive beats. The two albums as a collection give us a full scope of Future's musical styles. 
In the past, Future has been prepping our ears for the Future Hendrix vibes on laid back tracks like "Turn On the Lights," "Love Soooong" featuring Rihanna, and "Diamonds Dancing" featuring Drake. But this time around he is dedicating 17 tracks to his autotune-assisted riffs, runs and inner musings.
Producers Dre Moon, Detail and Metro Boomin, to name a few, shape the moody essence of HNDRXX. The rapper also recruits singers and previous collaborators the Weeknd and Rihanna to tag team with him on the record. 
Here is a look at five times Future lays his feelings on wax on his latest album, HNDRXX. Lyrics from Genius.
"My Collection"
On "My Collection," Future lets off some residual feelings about a failed relationship and likely references his ex-fiancee Ciara. 
"She told me she was an angel/ She fucked two rappers and three singers/ She got a few athletes on speed dial/ I'm tryna get the case dismissed before I see trial," he raps on the track.
In January, the former couple ended a custody battle over their son Future, Jr. Ciara later wed NFL quarterback Russell Wilson in 2016.
"Coming Out Strong" feat. the Weeknd
There are lines on this track that may reference Rocko, who signed Future to his A1 Recordings in 2011, one Genius contributor suspects. Back story: In June, Rocko filed a $10 million lawsuit against Future, claiming Future violated his contract by signing a side deal with Epic Records. Since then, Future has acquired massive success and Rocko feels entitled to some of his money. In September, Future countersued Rocko, and said it is in fact Rocko who owes him money. The lyrics below:
"My brother Casino said you wasn't Freebandz (Freebandz)
Freebandz is Future's record label, and Casino, Future's brother, seems to have warned him about a former acquaintance's loyalty before a fall out. Future also references the lawyer fees he's racked up from having to deal with multiple disputes. 
"Incredible"
On "Incredible," a smooth and sensual bop, Future describes his emotions for a woman he is currently having deep feelings for. At first he was having reservations, but that's all taken a back seat.  
"I was havin' trust issues/ But I've been havin' way better luck since you/ I know it's true love with you/Told myself I don't wanna fall in love with you," he raps.
"I Thank U"
On this mostly acoustic, guitar-led track, Future gives gratitude to a woman who gave him his motivation. 
"Girl I thank you, I thank you/ I thank you/ 'Cause you made me hustle/ I thank you, I wanna thank you," he raps.
"Turn On Me"
Again, Future continues to unpack his feelings about a "good girl" who turned on him. Could he possibly be discussing Ciara again? On the track he gives some clues: "I'm the one put all the flames on you/ I had you tatting my name on you." 
While they were dating, Future co-wrote one of Ciara's biggest hits "Body Party." The rapper, however, did not "put all the flames" on her, as she did build her own career and had bigger hits — such as "Goodies" and "1, 2 Step" — before he was even a thought to her. Additionally, Ciara also tattooed "N," Future's first name initial on her ring finger, but had it removed after their breakup.  
Mic has ongoing Future coverage. Please follow our main Future hub here.