Nintendo Switch Left Joy-Con: Bluetooth connection issues reported by several outlets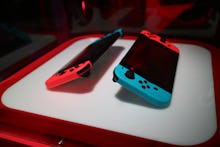 We're just a week away from the March 3 release date of Nintendo's newest console, the Nintendo Switch, which means some outlets already have their hands on the new hardware and are starting their pre-release coverage. (You can check out our hands-on preview here.)
Unfortunately, one comment that several outlets have made could potentially be a huge problem for early Nintendo Switch owners. The left Joy-Con — Nintendo's term for the detachable controllers — seems to have issues desynchronizing from the rest of the hardware.
Here's what's going on.
Nintendo Switch left Joy-Con: Several outlets report desynchronizing issue
As outlined in the following YouTube video from GameXplain, the issue causes the left Joy-Con to become almost completely unresponsive. In terms of Legend of Zelda: Breath of the Wild, this issue causes Link to continue running in whatever direction you were pointing when the desynchronizing occurred, and he'll continue to do so until the Bluetooth connection links back up again.
In the video, once they cover a certain portion of the controller, it seems to interrupt the connection, causing the controls to be jumpy and unresponsive. According to the testing in the video, it seems as though the Joy-Con needs to maintain line-of-sight to the Switch at all times to maintain a completely stable connection.
Even though the issue has largely been reported with the left Joy-Con, the video above demonstrates the issue can occur in the right Joy-Con as well. Now, it's possible this issue will be addressed in a day-one patch you can download once you get your very own Nintendo Switch, but that remains to be seen.
If Nintendo makes an official statement on the Switch left Joy-Con Bluetooth issue, we'll let you know.
More Nintendo news and updates
Looking for more Nintendo Switch news? Check out our comparison photos sizing up the Switch to the Wii U GamePad (part one and part two). Then take a look at a leaked video of the Nintendo Switch menu interface and dark mode features. 
If you're just getting caught up, here's everything you need to know about the console's price, release date, pre-orders, battery life and our hands-on review. And if you're interested in the Nintendo Switch's games, here's info on the new Super Mario Odyssey, Legend of Zelda: Breath of the Wild, Splatoon 2, Xenoblade Chronicles 2, 1-2-Switch and the goofy boxing game Arms.