Viola Davis' Oscars acceptance speech is an emotional tribute to her parents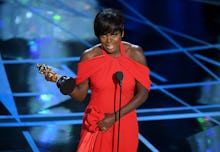 Was there ever any doubt? Viola Davis has won her first Academy Award for her stellar performance in Fences. 
Heading into Oscar Sunday, Davis was really the only pick for best supporting actress. The three-time Oscar nominee had steamrolled through virtually every awards ceremony in the lead-up to the Academy Awards. Davis' wins at the Critics' Choice Awards, Golden Globe Awards, Screen Actors Guild Awards and BAFTA Awards made her an overwhelming favorite to take home Oscar gold. 
While the other nominees — Naomie Harris for Moonlight, Nicole Kidman for Lion, Michelle Williams for Manchester by the Sea and Octavia Spencer for Hidden Figures — all deserved recognition, it was simply Davis' year. And though upsets at the Academy Awards can always occur — Eddie Murphy losing best supporting actor in 2007 for Dreamgirls comes to mind — the odds were certainly against that happening to Davis this year. 
For fans of Davis' work, you can rest easy knowing the actress can finally call herself an Oscar winner. After hearing her name called, Davis delivered an emotional acceptance speech, thanking her parents, Fences' scribe August Wilson and her co-star and director Denzel Washington, calling him "oh captain, my captain." 
Speaking to all the artists in the audience and watching at home, Davis explained, "We are the only profession that celebrates what it means to live a life." 
You can watch Davis' entire acceptance speech below: 
Want to keep tabs on all the award winners? Mic has them all for you right here.
Mic has ongoing coverage of the Oscars. Please follow our main Oscars hub here.