Tara Grinstead case: Latest updates in the death of missing Georgia teacher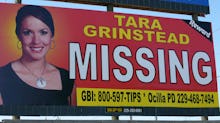 Tara Grinstead, a beauty queen and high school history teacher, went missing in October 2005. Now, over a decade later, a suspect has been arrested for her murder, CBS reported.
Ryan Alexander Duke, 33, was arrested Wednesday on murder charges after investigators received a tip linking him to Grinstead's killing. Georgia Bureau of Investigation agent J.T. Ricketson told reporters at a courthouse news conference that Duke attended Irwin County High School, where Grinstead taught history, three years before her disappearance.
Ricketson didn't elaborate on what Duke's motive might have been, but said, "We did find the person that was responsible for Tara's death." The arrest came following a tip days earlier from someone Ricketson declined to name.
"This gentleman [Duke] never came up on our radar through the investigation," Ricketson said. When asked if more arrests were possible, Ricketson responded that the Georgia Bureau of Investigation has "several more interviews to do."
Grinstead was 30 when she went missing on Oct. 22, 2005. After she didn't show up for work, neighbors and coworkers became concerned about Grinstead's wellbeing and made a report to the Ocilla Police Department. Grinstead's house was found locked, her car was in the driveway and her pets — a dog and a cat — were both home, but her purse and keys were gone. A latex glove, CBS reported, was "the type worn by police officers and medical workers [and] was found in her front yard."
In an effort to gather information on Grinstead, her family appeared on television crime shows to promote her case and ask for information. Volunteers also set up a "Tara Command Center" with a telephone tip line, as well as a website, FindTara.com. A $100,000 reward was created, but despite these efforts, little information ever surfaced, CBS reported.
Although no remains have been discovered and Grinstead was still classified as a missing person, her father had her legally pronounced dead by a probate judge in 2010, CBS reported.
Grinstead's disappearance has been the subject of media investigations throughout the years, including a 2008 episode of 48 Hours, a 2015 Greta van Sustren investigation and a 2010 episode of Disappeared, an investigative documentary.
During the courthouse press conference, Grinstead's stepmother, Connie Grinstead, read a statement to reporters thanking God "for answered prayers" and law enforcement, adding, "We always believed that it would be solved. We just did not know when."