Kansas shooting echoes a history of white terrorism that conservatives won't admit exists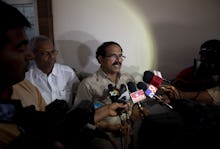 Adam W. Purinton was charged with first-degree murder Thursday in the shooting death of Srinivas Kuchibhotla, a 32-year-old systems engineer from India. Purinton, a 51-year-old white man, allegedly shot Kuchibhotla and two other men at Austin's Bar and Grill in Olathe, Kansas, Wednesday night. 
According to one witness, Purinton's attack was motivated by bias. The Navy veteran reportedly shouted, "Get out of my country," before opening fire on Kuchibhotla and another Indian engineer, Alok Madasani, who is 32. Purinton also shot a third victim, a 24-year-old white man named Ian Grillot, who stepped in to intervene.
"[It] wasn't right," Grillot — who is in stable condition, along with Madasani — said in a video obtained by the Kansas City Star. "I didn't want [Purinton] to potentially go after somebody else."
If Purinton's attack was indeed spurred by xenophobia, then Wednesday's shooting was an act of terrorism. At a time when anti-Muslim hate crimes are rising across the United States and President Donald Trump is ordering roundups of undocumented immigrants and banning Muslims from entering the country under the pretense of national security, there are few more potent forms of political violence than the kind committed by white Americans against non-whites, Muslims and immigrants.
This is not a new phenomenon. White terrorism has shaped the U.S. in countless ways, seen and unseen, for years. But in their rush to paint Muslims and immigrants as the most pressing threat to Americans' safety, many whites and conservatives refuse to admit that homegrown white terrorism has been a threat for much longer — and with a much higher death toll.
For centuries, the most constant form of terrorism in the U.S. has been white violence against black people. From routine torture under slavery to violent segregation and widespread lynchings under Jim Crow, whites have maintained social dominance by using a steady campaign of terrorist acts against a helpless black minority. 
The most recent high-profile example was the June 2015 murders of nine black parishioners at a church in Charleston, South Carolina, by white supremacist Dylann Roof.
"We have no skinheads, no real KKK, no one doing anything but talking on the internet," Roof wrote on a personal website explaining why he'd planned the mass murder. "Well someone has to have the bravery to take it to the real world, and I guess that has to be me."
Roof was radicalized to become a terrorist online — a pattern that's come to define a growing cadre of white racists and extremists across North America. In January, a young white man named Alexandre Bissonnette entered a mosque in Quebec City, Canada, and shot and killed six Muslim men. Authorities said Bissonnette was a supporter of Trump and xenophobic French presidential candidate Marine Le Pen, and was known to post misogynist, right-wing, anti-immigrant screeds on the internet.
Yet in neither case did conservatives suggest there was a bigger problem with white terrorism. In fact, quite the opposite: Trump stayed silent about the attack on Twitter, but posted about a non-fatal stabbing committed by a man shouting, "Allahu Akbar," at the Louvre in Paris, France, six days later.
The conservative website Gateway Pundit published a lengthy set of screenshots exposing the mainstream media outlets that "hid the truth" by not reporting that the Quebec City shooter yelled, "Allahu Akbar," before opening fire. The so-called "truth" they were referring to, and implied the media was trying to hide, was that the killer was a Muslim terrorist — which, of course, turned out to not be the case.
But perhaps most striking is the incredulity conservatives express when white terrorism crops up. After Roof's act of mass murder — and after widespread reports that he'd expressed virulent racial hatred and had been photographed showing off racist symbols — former Florida Gov. Jeb Bush told reporters, "I don't know," when asked if the crime was motivated by race. 
"Nine people lost their lives, and they were African-American," he added. "You can judge what it is."
The Wall Street Journal later editorialized, "What causes young men such as Dylann Roof to erupt in homicidal rage, whatever their motivation, is a problem that defies explanation beyond the reality that evil still stalks humanity."
Then-South Carolina Gov. Nikki Haley added on Facebook, "we do know that we'll never understand what motivates anyone to enter one of our places of worship and take the life of another."
All of this, as if we don't have centuries of American history explaining exactly why such violence happens. As if we don't remember the white supremacist bombing of a black church in Birmingham, Alabama, in 1963, that claimed the lives of four little black girls; or the lynchings of more than 4,000 black Americans between 1877 and 1950; or the brutal xenophobic beating death of Vincent Chin, a Chinese-American who was killed in Michigan in 1982 by white auto workers who thought he was Japanese and hence eroding U.S. dominance in the auto industry.
White terrorism is such a constant in U.S. history that it can only seem inexplicable to those who are in denial. For the rest of us, it is an indisputable reality. The real mystery is how so many people can still refuse to admit it.