Nintendo Switch 'Fast RMX': 5 things you need to know about the indie launch game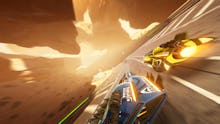 Presumably in an effort to bolster the Nintendo Switch's meager launch lineup, Nintendo just decided that Shovel Knight and Fast RMX will come to the console at launch instead of shortly after, as was the original plan. Shovel Knight is fantastic, but it's also an old game. So Fast RMX is the real draw here in terms of new games.
But what is Fast RMX? It's actually a sequel to a great Wii U game that most of you probably don't play because it was a Wii U game. It's also the closest we'll get to a new version of a great (but dormant) Nintendo franchise. Here are five things you should know about the new game ahead of its March 3 release.
Nintendo Switch Fast RMX: Probably as close as you'll get to a new F-Zero game
Fast RMX is a futuristic racing game where you maneuver hovering vehicles through winding, fantastical science fiction racecourses. It bears a significant resemblance to F-Zero, a great series that Nintendo hasn't revisited on home consoles since 2003's F-Zero GX. 
That means it's ultra fast with tight controls and that a race can go wrong quickly if you don't stay focused. It also doesn't have weapons, meaning your driving skill is the only thing that can save you here.
Nintendo Switch Fast RMX: Did I mention that it's fast?
No, really, this game screams by at an incredible rate. Just watch.
It runs at 60 frames per second, which gives it a great sense of speed. It also necessitates precision driving on your part in the game's rollercoaster-like racetracks. Good luck out there.
Nintendo Switch Fast RMX: You have to use color to manage your boost
The major difference between this game and others in the genre is how you manage your speed boosts. There will be boost pads on the track like any other racing game, but you can't use them unless your car is the right color.
No, really.
With the press of a button, you can switch your car's color between blue and orange. You can only use boost pads, ramps and other track features that match the current color of your car. If you go through with the wrong color alignment, it won't work out for you. That means you have to pay attention to what color your car is while also navigating these difficult, speedy courses.
Nintendo Switch Fast RMX: The third game in a series
You'd be forgiven for not knowing this, but Fast RMX is technically the third game in the Fast racing series. Fast Racing League came out for the Wii in 2011, while Fast Racing Neo graced the Wii U in 2015.
Neo was a highly underappreciated downloadable Wii U game and RMX closely resembles it in terms of visuals and mechanics. As a fan of that game, I'm pretty stoked to see it basically get a second chance as a Switch launch game. Since the games don't have a story, don't worry about being lost if you haven't played the other two.
Nintendo Switch Fast RMX: Multiplayer options take advantage of the Switch
Fast RMX has split-screen multiplayer for up to four players, local multiplayer for up to eight players using multiple Switch units connected wirelessly and online multiplayer for up to eight players. You can play it on the TV or in handheld mode using the Joy-Con controllers or the Switch's pro controller.
Basically, if you can think of a way to play it using the Switch's convoluted control mechanisms, you can do it. Fast RMX launches alongside the Nintendo Switch on March 3. The price has not yet been confirmed.
More Nintendo Switch news and coverage
Looking for more Nintendo Switch news? Check out our comparison photos sizing up the Switch to the Wii U GamePad (part one and part two). Then take a look at a leaked video of the Nintendo Switch menu interface and dark mode features. 
If you're just getting caught up, here's everything you need to know about the console's price, release date, preorders, battery life and our hands-on review. And if you're interested in the Nintendo Switch's games, here's info on the new Super Mario Odyssey, Legend of Zelda: Breath of the Wild, Splatoon 2, Xenoblade Chronicles 2, 1-2-Switch and the goofy boxing game Arms.