What Melania Trump wore her fifth week as first lady — the one time she appeared in public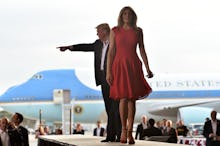 For her fifth week as first lady of the United States, Melania Trump kept it low-key, appearing in public only once. 
Her cap-sleeve Alexander McQueen knee-length dress was cherry red, not dissimilar to Carmen Sandiego, another woman (albeit fictional) known for her unknown whereabouts. She finished the Sarah Burton-designed outfit with matching red shoes.
Last seen on Feb. 15 touring the Smithsonian National Museum of African American History and Culture with Sara Netanyahu, wife of Israeli Prime Minister Benjamin Netanyahu, the first lady did not reemerge into the public eye until Saturday.
When she did, she was spotted boarding Air Force One in West Palm Beach, Florida, as she and President Donald Trump headed to Melbourne, Florida, to attend a rally.
The pair arrived shortly after, and we were given our first clear glance at Trump's outfit — complete with sunglasses on.
Moments later, now fully emerged in the beating Florida sun, Trump took the glasses off.
Upon arriving at the rally, Trump delivered the Lord's Prayer before addressing the crowd with her own words. 
"It is my honor and great pleasure to stand here before you as the first lady of the United States," she told the crowd. "The America we envision is one that works for all Americans and where all Americans can work and succeed. A nation committed to greater civility and unity between people from all sides of the political divide.
"I will always stay true to myself and be truthful to you no matter what the opposition is saying about me."
And that's it. That's all we got. Seven jam-packed days for POTUS and only one sighting of FLOTUS. We'll have to wait until next week for more Melania — that is of course, if she surfaces at all.
You can see previous recaps of what Melania Trump wore here.