How to get free tickets to 'Jimmy Kimmel Live!'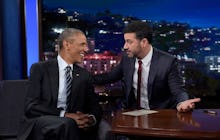 On Sunday, the stars will align for the 89th Annual Academy Awards. While the spotlight will largely be on the nominees and winners, there is someone else who will be taking center stage: Jimmy Kimmel. The Jimmy Kimmel Live! host will be headlining the Oscars for the first time. Kimmel has previously hosted the 2016 and 2012 Emmy Awards. 
Obviously, Oscar Sunday is not the only day you can enjoy Kimmel's hilarious antics. Jimmy Kimmel Live! airs weeknights at 11:35 p.m. Eastern on ABC, and is often one of the funniest shows of the night. Jimmy Kimmel Live! routinely features superstar guests and, as ABC is a Disney subsidiary, often is the platform used for highly anticipated movie trailer premieres, like Spider-Man: Homecoming. 
While watching Jimmy Kimmel Live! at home is fine, there is little reason not to try and catch the show in person — after all, it's free! So, for those who want to see the late-night host live and in person, doing so is rather simple. First, you need to head to jkltickets.com (you will be redirected to 1iota's Jimmy Kimmel Live! page). 
Once there, just pick the day you are interested in attending, and click "Join Waitlist." At that point, all you need to do is request the number of tickets and explain why you are a Kimmel fan. Once you sign up for an account, which you can do using social media, you will be able to finalize your request. And hopefully, after that, you will be heading to Los Angeles for a live taping of Jimmy Kimmel Live!
Mic has ongoing overage of the Academy Awards. Please follow our main Academy Awards hub here.