Snapchat IPO: What you need to know about Snap stock, the hottest tech investor obsession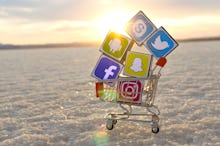 Whenever a private company goes public and starts issuing stock that anyone can buy in an initial offering, it's often exciting, prompting hype, rumors, and speculation. But that's especially true when you're talking about a well-known company like Snap Inc., which runs Snapchat and boasts outsized name recognition, with more than 158 million users.
On Saturday, the New York Stock Exchange will conduct a trial run for the Snap IPO — currently scheduled for early March — and is encouraging firms to send in sample orders to help them assess demand. Snap's backers are eager to work out the kinks for a good reason: Reuters reports it's expected to be the biggest IPO in half a decade. 
When companies go public, early investors have a lot to gain. Indeed, the Information recently reported that a California Catholic school has already gotten in on the action, and stands to make tens of millions of dollars practically overnight because it took an early stake in the company. 
But what about people who invest in the company after the IPO? Could Snap stock make you rich if you buy the stock quickly — or is it a risky bet?
Here are three major things to know about the hottest new tech investor obsession, whether you're a fan of the app, a prospective investor or a skeptic.
People are buzzing about Snap stock
Some are calling Snap the next Facebook, Apple or Google — though only time will tell. One reason investors are so excited is it's been a while since we've had a blockbuster IPO: The biggest offering of 2016 was for a company called ZTO Express, a Chinese shipping company. And for the past couple of years, there've been so few hyped up IPOs that some claim there's a  drought.
Another reason why investors are obsessed with Snap is that the business is very secretive. Until the company started filing its IPO paperwork, it was unclear to outsiders what exactly the firm's research wing actually did. Even now, as Venturebeat notes, the answer is still relatively vague: "product development, advertising technology, and large-scale infrastructure."
Snap's IPO will offer a peek behind the curtain.
The stock, expected to be priced between $14 and $16 a share, could benefit from the company's young, advertiser-friendly user base: 98% of Snap's revenue in 2016 came from advertising. Those who are hopeful about the stock say it has a better chance than Twitter — which still trades way below its IPO price — at overcoming risks.
But some market watchers are far more skeptical
The are plenty of buzzkills out there, too: Bloomberg's Shira Ovide and Rani Molla called investing in Snap stock an "act of lunacy." 
The reason for their skepticism is pretty simple. Snap makes no profit but claims to be worth in the ballpark of $20 billion. It's also run by an unproven and allegedly hedonistic 26-year-old college dropout. 
Another analyst called it "total junk" on CNBC, arguing that it was "tail end" of boom times for social media companies. Ouch.
Most compellingly, skeptics point to Snapchat's slowing user growth, and argue that the company's valuation is too high (aka the stock will be overpriced) — and that Snap's space is crowded with competition, including Facebook's Instagram and WhatsApp.
IPOs tend to invite pretty strong opinions, and that's because all investors can do ahead of time is speculate. Privately-held companies don't need to share nearly as much information with the public as, well, public ones do. Snap's financials are hazy, and the company only just started generating any revenue (forget profits) at all two years ago.
In other words, as far as companies go, Snap is a toddler. Investors can't be too confident in whether it is a popular "app of the moment," or a corporation with a future that will be able to innovate and book profits — in good times or bad. 
While the stock could go on to rip-roaring success, the question of whether you should buy in is not easy to answer — and unless you have cash you're okay with losing (since buying stocks is always a gamble) IPOs are a generally a pretty risky investment, even more so than just buying other individual stocks like Apple or Google.
If you want to get your feet wet as an investor, do a little self-education on buying stocks and funds — and consider making a more diversified bet on a broad, low-fee ETF. But if your heart is set on buying SNAP stock, good luck to you! Just be sure you are not investing with your emergency fund.
Sign up for The Payoff — your weekly crash course on how to live your best financial life. Additionally, for all your burning money questions, check out Mic's credit, savings, career, investing and health care hubs for more information — that pays off.