Donald Trump Muslim Ban: More than 700 were held over first weekend after executive order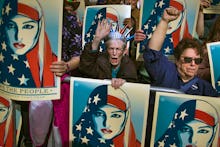 During the first weekend after President Donald Trump's travel ban took effect, 746 people were detained as they attempted to enter the United States.
This is significantly more than Trump's estimation — blasted on Twitter on Jan. 30 — of his ban detaining only 109 people entering the U.S.
According to CNN, the Trump administration released the list of names on Thursday due to a court order in Darweesh v. Trump, which is the first federal case against the administration's travel ban. The plaintiff, Hameed Darweesh, is an Iraqi father of three who worked for the U.S. military and was detained by U.S. Customs and Border Protections at John F. Kennedy International Airport a few hours after the travel ban was put into effect.
A letter from the Department of Justice said those detained include people who are permanent legal residents, or green card holders, in the U.S. According to ABC News, this also includes refugee applications, visa holders, and travelers and immigrants from the seven Muslim-majority countries banned in Trump's executive order: Iran, Iraq, Libya, Somalia, Sudan Syria and Yemen.
On Jan. 28, the day after the ban was signed into effect, a federal judge in Brooklyn ordered a stay on the order in response to the emergency lawsuit of Darweesh v. Trump, with the assistance of the American Civil Liberties Union and the National Immigrant Law Center.
The list of 746 names, however, include people who were detained after the stay was put into effect from "Jan. 28 at 9:37 p.m. —- when the Brooklyn judge halted part of the ban that allowed for deportations -— to Jan. 29 at 11:59 p.m.," ABC News reported.
"We are pleased to finally get the names, though it took more than three weeks from (Judge Donnelly's) court order," ACLU attorney Lee Gelernt told CNN. "But we remain concerned that the list is incomplete and that it needs to be supplemented so we have information to find the affected individuals."