Why are Family Christian stores closing? Christian retailer shutters citing falling sales.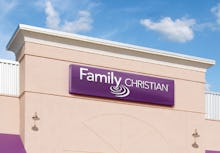 After more than 85 years in business, Family Christian, the "world's largest retailer of Christian-themed merchandise" is shutting its doors.
The Christian retail chain cited declining sales as the reason for its closure. This isn't the first time the company has revealed its financial troubles, having previously filed for bankruptcy in 2015.
"Despite improvements in product assortment and the store experience, sales continued to decline," company president Chuck Bengochea said in a statement, USA Today reported. "In addition, we were not able to get the pricing and terms we needed from our vendors to successfully compete in the market. We have prayerfully looked at all possible options, trusting God's plan for our organization, and the difficult decision to liquidate is our only recourse."
Family Christian was first founded under the name Zondervan in 1931 by brothers Bernie and Pat Zondervan, the company's website explains. The company, which was first renamed Family Bookstores in 1971 before taking its current name in 1997, later became a nonprofit organization in 2013 and has since donated its profits to Christian charities.
When the company filed for Chapter 11 bankruptcy in 2015, USA Today noted, they reported that sales had fallen 29% from 2008 to $216 million. The Grand Rapids, Michigan-based company currently operates 240 stores in 36 states, employing more than 3,000 people.
No timetable for the stores' closure has yet been given.