Send confidential tips to Mic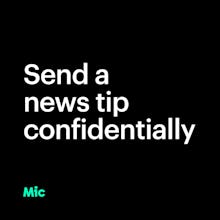 If you have material that you can easily imagine appearing in the news — and you think people should know about it — that's a good sign you have a tip. Please try to include specific, newsworthy information and evidence. Include as much documentation as possible, especially photos, video and audio recordings.
A small group of editors who manage our tip lines will safeguard your identity, even internally within Mic. For more information on how Mic vets and uses information from sources, including anonymous sources, see Mic's Editorial Standards.
How to send a confidential tip
SMS/phone call: (646) 830-2553
SMS and phone calls, while ubiquitous, are prone to interception. If you are sending information that is highly sensitive, do not use this delivery method. Instead, use one of the following options that offer end-to-end encryption.
iMessage/Facetime: (646) 830-2553
iMessage and Facetime both provide end-to-end encryption on both audio and video messages, so no one but the sender and receiver can access them. Apple does not log messages or attachments, nor can Apple decrypt the data once it's encrypted. Timestamps on these messages, however, are not encrypted.
Facebook Messenger: m.me/micmedia
Facebook Messenger allows you to opt in end-to-end encryption for text and photos only via the service's "secret" option. Secret Facebook messages do not encrypt video or voice messages. Note that while communication is encrypted in a "secret" conversation, Facebook may collect the phone numbers or email addresses of those communicating, as well as message timestamps.
Starting a "secret" conversation
WhatsApp: (646) 830-2553
WhatsApp provides end-to-end encryption between its sender and receiver for both voice calling and text messaging. Note that while communication is encrypted, WhatsApp does collect both timestamps and phone numbers associated with the transmissions.
Signal: (646) 830-2553
Signal is open source and offers end-to-end encryption for text messages, photos, videos and voice calls. Signal records your phone number, the date and time of when you sign up and the last time you used it. You may also set a message to erase itself from both the sender and recipient's phone after a set amount of time.
Email with PGP encryption
Email: tips@mic.com
Fingerprint: BE4D 1997 1EA6 4E09 4090 D84F 332E 0417 6653 A427
While you do not have to encrypt your emails, confidential information should be transmitted via encrypted messages using Mic's public PGP key. There are many options for encrypting messages with PGP; Mic recommends using a Chrome plugin like Mailvelope to make the process easier.
Mailvelope website and instructions
Mail
Tip for Mic
285 Fulton St., 82nd Floor
New York, NY 10007
Other ways to contact us
Pitches or ideas for stories should be sent to submissions@mic.com.
If you have any other commentary for Mic, please send to feedback@mic.com.