New 'Overwatch' Characters: Tweet shows OR15s in image taken by Efi Oladele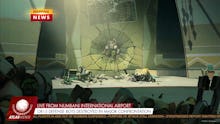 It's starting to feel like a new Overwatch character reveal is just on the horizon. On Tuesday, Blizzard released a fictional interview with a new character named Efi Oladele, and a brand-new tweet from the official Overwatch account just took her story another step forward.
The tweet, framed as a breaking news alert, reveals some kind of altercation at the Numbani airport, saying "OR15 defense units" were destroyed in a confrontation with an "unidentified assailant."
Notably, the image credit in the bottom-right corner shows the picture was taken by Efi Oladele, the 11-year-old genius inventor who was the subject of the aforementioned fictional interview on the Overwatch website. It's likely she was the target of the attack in an attempt to steal whatever technology she had been working on, but that's purely speculation on our part.
In the interview that revealed her, Efi noted that she was celebrating her win of Adawe Foundation's "genius grant" with a trip with her family, which is likely why she was at the Numbani airport. Fans had long suspected that something fishy might happen on her trip, but it looks like Efi won't even have the chance to take that trip at all.
Additionally, it's worth noting Efi specifically mentions OR15s as an inspiration for the invention she's currently working on.
"I want to create things that make our lives better," she says in the interview. "And someday, my dream is to build something that can keep us safe, like the new OR15s! I think that would be great."
Up until now, Overwatch fans had no idea what OR15s were, which led them to speculate they were some kind of spider-like robot that had appeared in old Overwatch concept art. However, in the image above, they appear to be more humanoid robots.
When more information becomes available, we'll let you know.
More Overwatch news and updates
For more on Overwatch, check out the rest of what Mic has to offer. Here is a list of our predictions for what seasonal events might appear in 2017, a look at a very funny but naughty meme on the Overwatch subreddit, an interview with the creator of an awesome new Overwatch zine, the full patch notes for Overwatch version 2.03, a full explanation of the different types of health in Overwatch, our definitive ranking of every Overwatch hero, a roundup of awesome gender-bent Overwatch cosplay and a giant Overwatch FAQ for beginners.