This Week in Reproductive Rights: Judge nixes defunding Texas Planned Parenthood, and more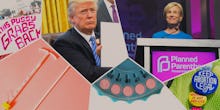 Near the end of 2016, Texas finally moved on a promise it had held for over a year: defund Planned Parenthood statewide. At the eleventh hour, Planned Parenthood asked the courts to intervene, and intervene they did.
On Tuesday, U.S. District Judge Sam Sparks blocked the state's attempt to cut Medicaid funds for the health care provider, on the grounds that it would harm women without justification.
Texas relied on the debunked sting videos from 2015 as proof that Planned Parenthood was selling fetus parts for profit. Taxpayers shouldn't be required to fund its illegal enterprise with their hard-earned dollars, argued Texas Attorney General Ken Paxton, according to the Associated Press.
But the videos, which were heavily doctored so that they appeared to show Planned Parenthood officials trafficking in fetal tissues, have repeatedly been found baseless. According to the AP, investigations in 13 states have found nothing and, indeed, when the videos were brought before a Texas grand jury, the filmmakers — not Planned Parenthood — wound up indicted.
"A secretly recorded video, fake names, a grand jury indictment, congressional investigations — these are the building blocks of a best-selling novel rather than a case concerning the interplay of federal and state authority through the Medicaid program," Sparks wrote, according to the AP. "Yet, rather than a villain plotting to take over the world, the subject of this case is the State of Texas' efforts to expel a group of health care providers from a social health care program for families and individuals with limited resources."
The videos catalyzed a number of other states to defund Planned Parenthood, attempts the courts have always blocked for precisely the same reason. According to the Huffington Post, defunding Planned Parenthood would have withheld roughly $4 million from the health care provider and affected roughly 11,000 low-income people, all in the interest of advancing an anti-abortion agenda.
Here's what else made headlines in the reproductive rights arena this week:
• Norma McCorvey, better known as "Jane Roe" of the landmark Roe v. Wade case, died on Saturday at a Texas assisted-living facility. McCorvey's 1973 Supreme Court case earned Americans the legal right to receive an abortion. 
• Tuesday was a good day for reproductive rights. Norway pledged $10 million to the Netherlands' international abortion fund, a response to President Donald Trump's reinstatement of the global gag rule. Norway also joins seven other countries in the effort to help replenish the approximately $600 million in family planning funds that Trump revoked when he revived the order.
• That same day, Virginia Gov. Terry McAuliffe vetoed a bill that would have cut government funding for Planned Parenthood throughout the state. "It's time that out General Assembly understands that we have a responsibility to protect the rights and dignity of women," he said at a press conference. "Without access to reproductive care and the freedom to exercise choice, women are denied the choice to make deeply personal health decisions."
• Also on Tuesday came a new bill from South Carolina legislators pushing for insurance plans to cover a year-long supply of birth control all at once. Typically, women must refill birth control prescriptions on a monthly basis, making it difficult for many women who have demanding work schedules or a lack of access to transportation, for example. "By increasing access to birth control, this bill has the potential to reduce unintended pregnancy, contribute to healthier pregnancies and allow women to pursue their goals," said bill co-sponsor Rep. Beth Bernstein. 
• On Wednesday, a House panel in Florida approved a bill that would let post-abortion women sue their doctors for physical and emotional damage. The bill is out of step with recent studies that show women tend not to regret the decision to terminate a pregnancy, and suffer more anxiety and distress from being denied the right to have the procedure than from the procedure itself.
• In global news, Guatemala's army took a Dutch boat docked in the Port of San Jose into custody after learning that it was owned by Women on Waves, a nonprofit that brings women to countries where they can obtain safe and legal abortions. In Guatemala, abortions are only legal if the pregnancy puts the mother's life at risk. 
• Utah officials have discovered that a law passed in 2016 mandating providers give fetuses anesthesia or pain killers before performing abortions has gone unenforced. Doctors say legislators won't explain how exactly they are to administer these treatments to fetuses and that a strict interpretation of the law would mean asking doctors to choose between two risky procedures. "I guess I'm breaking the law, but I don't know how to not break it because no one would tell me," Dr. Leah Torres told the Associated Press.
• Missouri just took a positive step toward ensuring women aren't discriminated against for their reproductive health decisions. A new ordinance put into effect last week explicitly forbids employers from firing, refusing to hire or punishing a woman because she uses birth control, has had an abortion, becomes pregnant outside of marriage, or has made a number of any other decisions about her body or her life.
 • On Wednesday, the Indiana Senate Judiciary Committee passed a new bill that would allow parents to be a part of legal proceedings pregnant minors must undergo in order to receive an abortion. Existing protocol requires these hearings to involve both a lawyer and a juvenile court judge who together decide whether the minor is "mature" enough to make the decision to terminate their pregnancy. Essentially, this new bill would allow parents the opportunity to testify for or against their child, potentially blocking their access to abortion.