Only 2 of 50 Bill Cosby accusers will be allowed to testify in his sexual assault trial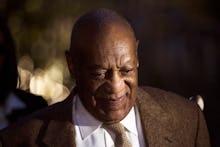 Although more than 50 women have accused Bill Cosby of sexual assault, only two will be able to testify against the comedian when he finally faces trial.
As Andrea Constand's sexual assault charges against Cosby move forward toward a trial later this year in Montgomery County, Pennsylvania, Judge Steven O'Neill determined that only one other victim would be eligible to testify against Cosby in addition to Constand, the Associated Press reported. 
Prosecutors had initially submitted 13 other accusers for consideration, but the defendants determined their testimonies detailing Cosby's alleged "casting couch" assaults are not unique to Cosby, and can therefore not be counted as the comedian's "signature" behavior.
The one accuser who will testify, the AP reported, was allegedly assaulted by Cosby in Los Angeles in 1996. The woman, who worked for one of Cosby's agents and had known the entertainer for six years, has said she went to Cosby's Bel Air bungalow for lunch to discuss her acting ambitions, only to be drugged and subsequently assaulted.
Cosby's trial will focus on sexual assault allegations from 2005, in which Constand, a former Temple University employee, claimed that Cosby molested her after giving her "three unmarked pills" in early 2004. The 2005 case was initially settled in 2006 for an undisclosed sum, but was reopened in 2015 after Cosby faced dozens of similar allegations from other women and his deposition from the 2005 case was made public.
That deposition, in which Cosby admitted to drug-induced sexual encounters dating back to the 1960s, will be presented to jurors as part of the Constand trial, the AP reported.
After being arrested and charged with felony aggravated indecent assault in Dec. 2015, Cosby is currently free on $1 million bail as he awaits the trial. Judge O'Neill, the AP notes, is hoping the trial will begin by June 5.