At least 7 Russian officials have turned up dead since Election Day. Here's what we know.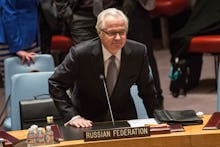 Vitaly Churkin, Russia's ambassador to the United Nations, died suddenly in New York earlier this week, apparently of cardiac arrest.
Churkin, Russia's envoy to the U.N. since 2006, reportedly became ill at his Russian Mission office in Manhattan on Monday and died at New York-Presbyterian Hospital. He was to turn 65 the next day.
The New York City medical examiner said more study is required into the cause and manner of Churkin's death, though federal law enforcement has said it does not believe there was any foul play. 
Still, because Russia is no stranger to political murders, the sudden death of a Russian official automatically raises suspicion. So while Churkin may indeed have died of natural causes, some have noted that it follows several other recent deaths of Russian officials, all occurring suddenly or under mysterious circumstances — including a man who is believed to have helped former M16 spy Christopher Steele compile his bombshell dossier on Donald Trump's links to Russia.
Churkin's death follows Krivov, Karlov and other officials
On Nov. 8, the day of the 2016 United States election, Russian consular duty commander Sergei Krivov was found dead on the floor of the Russian consulate in New York. Though police had initially said he died of "natural causes," a Buzzfeed report revealed mystery surrounding Krivov's sudden death. Krivov, who was found with a head wound, was initially said to have fallen to his death before consular officials changed the story and said he had suffered a heart attack. 
In December, Petr Polshikov, a senior Russian diplomat who served as the chief adviser to the Latin American department at the ministry, was found dead in his Moscow home with a bullet wound in his head. Hours later, Andrei Karlov, Russia's ambassador to Turkey, was assassinated at an Ankara, Turkey, art gallery by a Turkish police officer, apparently in response to Russia's involvement in Syria. There is no evidence that the two shootings were related, according to the Independent.  
On Jan. 9, Andrey Malanin, the head of the consular department at Russia's embassy in Greece, was found dead at his Athens apartment. It was reported that he died of natural causes, but police said they were continuing to investigate the death. Weeks later, Russian diplomat Alexander Kadakin, the country's ambassador to India, died at age 67 after a "brief illness."
Death of ex-KGB chief possibly linked to Trump dossier
In late December, Oleg Erovinkin, a former KGB general and liaison between Russian President Vladimir Putin and Igor Sechin, who runs Russia's state-owned Rosneft oil company and was named in an explosive raw intelligence dossier, was found dead in the back of his car in Moscow. 
Some have speculated that Erovinkin had served as a source for Christopher Steele as he compiled his dossier, which alleged Russian intelligence assets have been "cultivating, supporting and assisting Trump for at least five years" with the aim of encouraging "splits and divisions in Western alliance." The report also contained a claim that Russian intelligence sources have obtained a video of Trump in a Moscow hotel room with prostitutes performing a "'golden showers' (urination) show in front of him."
Trump strongly condemned the report as "FAKE NEWS." Though most of the dossier has not yet been verified, U.S. intelligence officials have been able to corroborate some details of the 35-page document, giving investigators "greater confidence" in the veracity of other portions of the document.
Some have suggested that Erovinkin's death is linked to his possible involvement in the dossier. Other reports have said he died of a heart attack.