Passengers on a US Delta flight were asked to show their papers. Is this the new normal?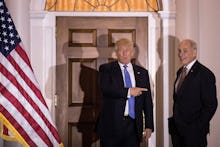 Drew Angerer/Getty Images
United States Customs and Border Protection agents requested that passengers on a flight from San Francisco to New York City on Wednesday night show identification upon landing at JFK airport — which some worried was part of President Donald Trump's crackdown on undocumented immigrants. 
Two CBP agents — assisting Immigration and Customs Enforcement — checked passengers' identification as they exited a Delta flight in search of a legal immigrant who had received a deportation order after criminal convictions which included domestic assault, driving while impaired and violating a protective order. The person was not on the flight. 
A CBP spokesperson told Rolling Stone such checks are "nothing new." But Jordan Wells, a staff attorney with the New York Civil Liberties Union, told the Washington Post it's unusual for authorities to ask for the identification of each passenger. 
"They'll occasionally pull someone off of a flight, or officers will come on and make an arrest," Wells told the Post. "It's a much more surgical thing than setting up a dragnet. That's what is so alarming about the way that this played out."
Several passengers — including a Vice staffer who was on the flight — posted pictures of the incident on Twitter. 
Another passenger, Matt O'Rourke, said passengers were "weirded out" by the incident, which he described as "a little bit alarming."
"I flew almost 200,000 miles last year," O'Rouke told Gothamist. "I've never had my ID checked getting off a domestic flight."
Part of Trump's immigration crackdown?
While CBP has insisted such actions are routine, the incident on Wednesday has led to speculation that it's part of the Trump administration's crackdown on undocumented immigrants.  
As Rolling Stone points out, the unusual scrutiny of the passengers on the domestic flight occurred the same week Secretary John Kelly issued memos regarding the implementation of Trump's executive order to deport "removable aliens."
Trump's Department of Homeland Security has instructed CBP and ICE to identify, capture and quickly deport every undocumented immigrant they encounter, including those without past criminal convictions. He also has plans to hire 15,000 more immigration agents to enforce his crackdown on undocumented immigrants.  
It is not clear whether or not the search was legal. When Rolling Stone asked CBP to explain its authority to scrutinize passengers on a domestic flight, it directed the magazine to a document that allows them to inspect "all persons, baggage and merchandise arriving in the Customs territory of the United States from places outside thereof" and to "collect passenger name record information on all travelers entering or leaving the United States."
Wells, in an interview with the Washington Post, also raised concerns about what would have happened had CBP agents discovered undocumented immigrants on the plane or if a passenger had refused to comply.
"Is this a mere request to see identification?" Wells said. "Would they have been detained but for them showing ID? Because then it's no longer a consensual encounter and the Constitution enters the equation." 
The American Civil Liberties Union is in the process of putting together a "Know your rights" guide in response to the incident, Vice reports.