Will Connie Britton join 'American Horror Story' after leaving 'Nashville'?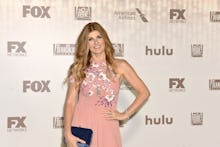 Following the death of Connie Britton's character Rayna Jaymes on Nashville, the actress is considering a return to another series that brought her acclaim, American Horror Story. 
"I'm very open at this point," the Emmy-nominated actress told Entertainment Weekly when asked about a possible reunion. "I'll work with [American Horror Story creator] Ryan [Murphy] anytime, that's always going to be true. Beyond that, I'm really open and there are so many things I'd be interested in doing. We'll see what comes down the line."  
Britton had previously expressed interest in returning to the show, telling a panel at theTelevision Academy, "I would love to come back, but scheduling is tricky," Variety reported. 
Britton had spent years playing country superstar Rayna on the Emmy and Golden Globe-nominated musical country series. Rayna died from her injuries following a car crash in the middle of season five. Her character's exit immediately followed another major change for the series, which moved from ABC to CMT after its fourth season. 
Britton starred on Friday Night Lights from 2006 to 2011 as Tami Taylor, the wife of head football coach Eric Taylor. She was featured on season one of American Horror Story, for which she received a 2012 Emmy nomination. In 2016 she reunited with Murphy, appearing on The People v. O.J. Simpson: American Crime Story as Faye Resnick, a friend of the late Nicole Brown Simpson who penned a scandalous tell-all book. 
Her first project post-Nashville will be The Land of Steady Habits, so any further work with Murphy would have to be scheduled around the Netflix film. 
Murphy's upcoming seasons are both political: American Horror Story will address the 2016 presidential election, and American Crime Story, which will star Matthew Broderick and Annette Bening, will focus on Hurricane Katrina.
Mic has ongoing American Horror Story coverage. Please follow our main American Horror Story hub here.