John Cena Nintendo Switch Meme: Unexpected Places tour features the WWE superstar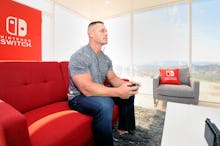 The Nintendo Switch release date has been bolstered by the company's willingness to advertise its latest console. While the Wii U largely went unknown outside of gamer circles, Nintendo is making sure the opposite is true for the Switch. 
The Japanese gaming company has appeared on Jimmy Fallon's Tonight Show and aired ads all over TV — including during the Super Bowl. Now Nintendo is bringing the WWE into the mix for a last-minute hype tour with some help from none other than John Cena.
Nintendo Switch Release Date: John Cena's trapped in the desert
Nintendo announced its unlikely John Cena partnership on Feb. 21 with pop-up events in select locations, including an invite-only event in the California desert, an Aspen pop-up and launch celebration in New York on March 3. A couple of days later, Cena tweeted a photo of himself wrestling with the Switch to mark the start of the tour.
The Santa Clarita Nintendo pop-up has already come and gone. But other locations for the tour include Snowmass Village in Aspen, Colorado, on Feb. 27 and Flatiron Plaza in New York City on March 3.
If you can't make it to a Nintendo launch event, don't worry. At least you can still enjoy this great meme of John Cena getting trolled on the Switch while you wait for the console's March 3 release date.
More Nintendo Switch news and coverage
Looking for more Nintendo Switch news? Check out our comparison photos sizing up the Switch to the Wii U GamePad (part one and part two). Then take a look at a leaked video of the Nintendo Switch menu interface and dark mode features. 
If you're just getting caught up, here's everything you need to know about the console's price, release date, preorders, battery life and our hands-on review. And if you're interested in the Nintendo Switch's games, here's info on the new Super Mario Odyssey, Legend of Zelda: Breath of the Wild, Splatoon 2, Xenoblade Chronicles 2, 1-2-Switch and the goofy boxing game Arms.